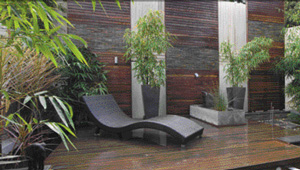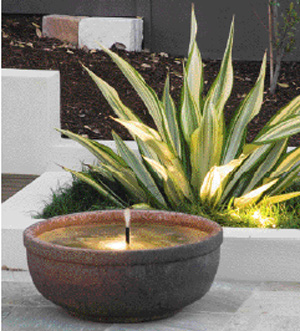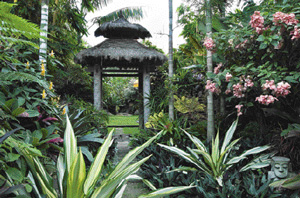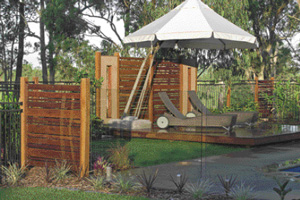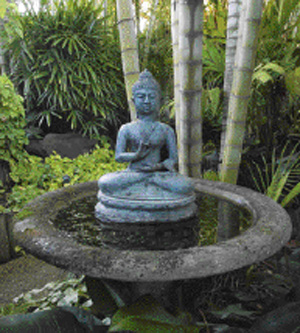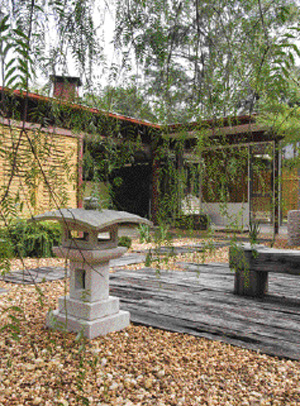 If you're looking for innovative and sustainable garden design ideas, look to Queensland

Words: Carrol Baker

As we plough further into the new millennium, innovative Queensland landscape designers are paving the way in contemporary, cutting-edge design, creating stylish outdoor entertaining spaces that are making the other states sit up and take notice.
The modern Queensland garden is very much about style, innovation and comfort, according to Mark Perriman of Mark Perriman Landscapes. "Many homeowners want to create a relaxed, resort-like feel that integrates both indoor and outdoor living," he says. But while tropical-style gardens continue in to be synonymous with the carefree Queensland lifestyle, there have been some subtle changes.
A growing awareness of the need for sustainability and water-wise planting and design is creating a new kind of gardenscape — and a key part of this is effective water use and conservation. Eco-savvy landscape designers understand just how imperative it is to incorporate features that allow homeowners to capture, retain and reuse rainwater onsite, says Wayne Giebel, from Wayne Giebel Landscape Designs.
"We're seeing more and more installation of tanks and grey-water systems to harvest water for use on gardens, as well as soakage and filtration trenches to deal with excess water," he says.
Andrew Bottomley, Landscape Queensland Inc president and owner of The Landscape Construction Company, agrees that landscapers and homeowners alike are becoming much more aware of water conservation and a garden's impact on the wider environment. "In Queensland, if the tanks are full instead of running into the stormwater, people are diverting to soakage trenches, which increase depth of water that's penetrated into the soil profile throughout the garden," he says.
While Queensland has a well-deserved reputation for having glorious weather, the state encompasses a variety of climate zones: tropical, sub-tropical and warm temperate. And it's not just the golden sun-drenched beaches that have been a drawcard for interstate and international holidaymakers. There are lush leafy rainforests and majestic mountain ranges.
After sampling the relaxed Queensland lifestyle, many visitors are opting for a permanent move to the sunshine state. With limited land available for release, an unprecedented population influx has driven the need for smaller block sizes. But while building lot sizes are shrinking, outdoor entertaining spaces and living areas are increasing in size, according to those in the know.
"It's a fact — people want larger outdoor spaces," says Chris Gill, from ROOM Landscape Design & Construction. "In some cases, designers are creating outdoor living spaces that are 100-150 metres in size."
The inclusion of a spacious outdoor entertaining area or outdoor room is no longer something that's an optional extra, it's a virtual "must have" if you live in the sunshine state. Creating a space where the cool comfy interior of the home can spill over into a luxurious outdoor living space is now very much in vogue, extending the entertaining capacity of the home and increasing the versatility of the garden.
In a well-designed Queensland outdoor living space you'll find everything from alfresco dining areas to fully functional outdoor kitchens equipped with built-in cupboards, sinks and fridges, and lounge areas for guests. Furniture is comfortable, stylish and durable — often made of wicker in natural or synthetic fibres. Some are fitted with two sets of cushions, one shade and design for summer and another for winter, and many designs are made or distributed by Queensland-based outdoor furniture specialists.
Colour palettes are often neutral, although coffee colours are very popular at the moment, says Wayne. "You'll see latte, cappuccino, beige and cream right through to dark chocolate," he says. "These new colours are chosen to blend and work with each other, not to contrast."
Garden art is a classic component of Queensland gardens. Take a drive through Queensland suburbia and you'll discover there's a diverse range of garden art forms taking centre stage. These range from sculptures to murals, paintings, plaques, feature walls and more. There is also a plethora of Queensland artists creating garden décor that is not only gracing Queensland properties, but gardens around the country.
Selected artwork and garden sculptures can add value to your outdoor living space without a huge cost, says Mark. Lighting is also important. "The innovative use of lighting in displaying art and sculpture can have an interesting and novel effect," he says. Of course, lighting is important for its own sake to create outdoor living spaces that can be used at night.
The traditional Queensland freeform flowing garden is also changing, becoming infused with a more formal, structured style. "We are seeing lots of straight lines, different level changes and the use of the layering of materials such as concrete, stone and timber," says Andrew.
Sustainability, however, is the key and landscape designers are delivering leafy urban Queensland landscapes that are both striking and water-wise. Plant selection is becoming bolder and more diverse as traditional tropical palms, which still have a place of course, often take a back seat to more contemporary planting. In new-look Queensland outdoor spaces you might discover a blend of drought-tolerant natives artfully interspersed with tropical plants such as cordylines, gingers and cycads.
There is also a trend towards defining garden spaces through structured planting — placing plants in groupings or specific zones, says Chris. Ornamental grasses and grass-like plants with strappy leaves and a tufted growth habit are very popular for this purpose. For example, you might find a mass planting of 20 or 30 plants such as Lomandra hystrix or Lomandra fluviatilis Shara™. Directly next to it you'll have a mass planting of another type of grass plant, he adds.
In other garden areas, formal landscape elements harmonise with the informal. "It's very eclectic," says Chris. "You might have grasses with grass trees and some Tabebuia, Cordyline australis, Cordyline 'Rubra' and varieties of bamboo in different sections."
The good news is you don't have to live in Queensland to replicate the vibrant colour of a contemporary Queensland-style garden. Many plants that are popular in Queensland will do well in other parts of the country. Bird of paradise and Hibiscus syriacus are tolerant of cooler climates, as are bromeliads, although some varieties don't like frost. Magnolia grandiflora 'Little Gem', scented star jasmine, gardenia and frangipani do just as well in other states as they do in the warmer parts of Queensland.
With Queenslanders' love of entertaining in their outdoor living spaces, there's also been a focus on reducing maintenance in the garden. "Queensland homeowners want to spend their free time entertaining in their outdoor living spaces, not maintaining them," says Andrew. This has also resulted in a greater ratio of hard landscaping to grassed areas within Queensland backyards. "We're definitely seeing a return of paved areas using natural stone products such as granite, limestone and sandstone," he says.
Brendan Dun from Aesthetic Landscapes concurs, saying the trend at the moment in Queensland is towards more low-maintenance gardens. In keeping with Queensland's relaxed lifestyle, people want to enjoy their outdoor spaces rather than have to "work" in them. "We find clients have less time in general these days, so they don't want to be mowing, weeding, hedging and watering their garden. We are creating havens for them to relax in," says Brendan. In saying that, though, gardens are living, breathing structures and will require attention from time to time.
Many Queensland homeowners enjoy relaxing poolside after a hard day's work. Increasingly, outdoor living spaces that contain a swimming pool are being recognised as an integral part of the home, says Darren Evans from Summit Pools. "Homeowners are taking a far more holistic approach in the design of their home from the outset — the backyard swimming pool is as much a part of the Queensland lifestyle as the outdoor rooms and barbecue areas," he says.
In terms of design, pools are generally more formal, with straight lines. Water features remain popular and some feature quirky additions such as deck jets with tubes of water shooting into the pool from the pool's edge. Lighting is also an integral part of entertaining by or in the pool, creating a vibrant night-time visual display.
These days, homeowners are demanding the best in innovative pool design, says Andrew Jakovac from Majestic Pools & Landscapes. "Queenslanders are savvy — they realise a pool isn't just a hole in the backyard to get wet in. A well-designed pool will add value to the home," he says. One of the key components in pool design in the new millennium is energy-efficiency, according to Andrew. And Queenslanders are leading the way.
"With water restrictions, having a pool that is self-sufficient and neutral to the town water system is important," he says. SPASA Queensland's eco pool accreditation system helps owners to not only have a self-sufficient pool — there will be a surplus of non-potable water to wash the car and water the garden. To check out the EcoPool Accreditation system, visit the website: www.spasa.com.au
If you want to get a real feel for Queensland's gardens, next time you're visiting first take a look at Australia's Open Garden Scheme website (www.opengardens.org.au). There are open gardens the length and breadth of the state covering a diverse range of climates and growing conditions. If you live in Queensland and are considering a garden makeover or need a new landscape to complement a new home, you can find an experienced, accredited landscaper by visiting the Landscape Queensland Industries Inc website (www.landscapequeensland.com.au) where you will find a listing of members.