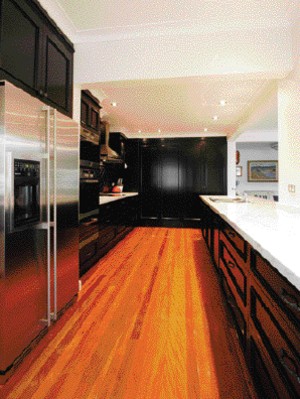 Enigma Interiors blends bold design with modern ambience. 
When briefing Lee Hardcastle from Enigma Interiors about the kitchen design, the owner desired the space to be not too modern or overly classic and to have something "a bit different" in terms of colour and materials. Because the existing kitchen was small, impractical and 1930s in style, utilisation of available space was a must. The kitchen had structural beams and load-bearing walls surrounding the space, along with large windows with solid decorative sills that needed to stay. The original kitchen also had a small side room that was never used due to its size and awkward shape. "Lee created something beyond my wildest dreams," says kitchen owner Gloria Hynes. "My home is an old, cavity brick, two-storey home, which is very traditional with antique furniture, so I wanted a kitchen that would be modern, practical and yet traditional as well. We had to knock down interior walls that were also in cavity brick — this house was made to last — with many steel beams, so it wasn't a simple job."
A doorway was opened to expand the two rooms into one with a drop-down plastered beam dividing the open space so the varying ceiling heights would be less noticeable. Combining the rooms into one space also meant convenient dual access to both the formal and informal dining areas. By extending the kitchen, significant bench space and a generous bar area with stylish glass door display cabinets were able to be incorporated within the design. The addition of a shallow pantry allowed for more bench space to be utilised and the lit display cabinets showcase the crystalware and ornaments beautifully without dominating the space. To enhance the classic 1930s style, dark grey and black-veined pale background Carrara marble was used, and the black timber grain doors were hand stained and finished with a clear lacquer. Due to the modern ambience of the black doors, protruded mouldings were added around certain kickboard sections and the lower bulkheads. Rustic handles were also added for contrasting style, resulting in a stunningly bold kitchen that highlights the character and theme of the home perfectly.
When asked what her favourite element of her kitchen was, Gloria replied that is was hard to choose, but probably the overall design. "The difficulty for Lee was to unite a formal dining room with period furniture at one end and a modern family room at the other. Lee, by his design, choice of materials, and colour scheme, has achieved that perfectly. My kitchen is modern and yet traditional, practical and elegant all at once," finishes Gloria.