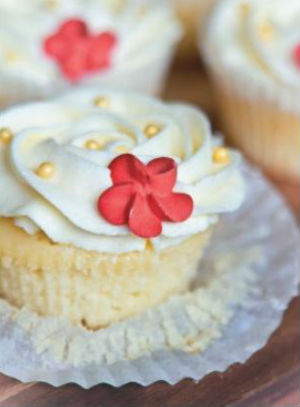 Kitchen Wench Ellie Won is in love with all the promise that the spring season brings.
Spring, with all the promise of new life, has come prancing in with arms wide open, waiting to embrace us all. There is the soft 'cheep cheep' of baby birds, fluffing their feathers and waiting to grow into their adult voices so they can wake us up at the crack of dawn along with their parents.
There are flowers blossoming in amongst luscious green foliage, ready to fill the air with their colour and pollen, to the terror of hay fever sufferers everywhere. And last but not least, there is the trepidatious anticipation of smart phone users across the country as they wait to see whether their carriers have fixed their issues with the change of daylight savings. Ah, spring. Don't you just love it?
Don't get me wrong, whilst I'm notorious for finding things to grumble about (what exactly is it with birds that they insist on greeting the rising sun with a cacophony of noise?), spring happens to be one of my favourite times of the year. It's the season when I'm happiest in the garden, planting radishes in every available corner of my urban backyard, choosing which tomatoes to grow, and betting on whether this will finally be the year where I'll be able to harvest a proper bunch of strawberries before they're assaulted by the crows.
Now, I'm not about to go frolicking through the hills as suggested in William Blake's famous love letter to the season, but I celebrate my love in my own ways. Whether it is on my knees in the garden, with a Pimms in one hand and a muddy trowel in the other, or spending hours at local markets and caressing the produce, there's so much to do that it keeps me positively giddy. There is colour everywhere and fresh fruit and vegetables which renew my love of cooking after a solid three months of winter food which has done nothing kind to my hips with all its richness and starchy flavour.
The farmers markets are once again bursting at the seams with all sorts of offerings, and I must admit that I quite regularly lose touch with sanity here, buying so many goodies that my car drops a few centimetres from the sheer weight and I wonder what possessed me to buy quite so many varieties of tomatoes. In my opinion, there's just nothing quite like fresh seasonal fruit and vegetables.
Fresh artichokes are incredible when boiled and served with a generous squeeze of lemon juice. Garlic scapes (the long green 'stem' of hardneck garlic) have a delicate garlic flavour which is amazing when sautéed with a little butter. The first peas of the season are so incredibly tender and flavourful that it's a battle to reserve them for cooking rather than eating them straight out of the pod. In fact, I'm so enamoured with buying these bites that I'd rather spend my money at a farmer's market than drink it away on overpriced cocktails at my favourite bar. Of course, it helps that I'm not too shabby at mixing my own cocktails at home, to be enjoyed while cooking with my weekly market haul! 
Once the weather gets warm enough, one of my absolute favourite things to do is to eat outdoors. Picnics and barbeques are a great way of spending time with family and friends, and there's nothing quite like sitting on a picnic blanket in the sun with good food and good company. While the males usually gather around the smoke billowing from the charring meats, I prefer avoiding smelling like a smoke-house by sitting with my girlfriends and sharing a laugh while we set out the salads and desserts.
And as far as picnic desserts go, these lemon cupcakes are just about perfect — rich little cakey bites that are easy to carry and share, with a tangy citrus bite that won't overload your plate after you've feasted on sausages and potato salad!
Lovely Lemon Cupcakes
Ingredients:
180g butter, softened
400g caster sugar
3 large eggs
1 teaspoon vanilla extract
Zest of 1 lemon
2 tablespoons lemon juice
½ teaspoon salt
2½ teaspoons baking soda
450g all-purpose flour (plain flour)
1½ cups buttermilk
1. Preheat your oven to 175°C, and mix together the butter and sugar till creamy.
2. Beat in the eggs, vanilla, salt and baking soda and continue beating till the mixture is light and fluffy, then add your lemon zest and juice and beat in for another few minutes.
3. Add your buttermilk and flour in three alternating batches, beating well after each addition. Once all the buttermilk and flour has been added, beat at top speed for about 30 seconds-one minute or till the mixture is smooth and shiny.
4. Line your cupcake baking tray with cupcake liners and fill each liner about halfway.
5. Place your lined and filled cupcake tray into the oven, and bake for 13—15 minutes, or till a toothpick inserted into each cupcake comes out clean.
6. Remove them from the oven and place on a cooling rack till they have completely cooled. While they are cooling, start to prep your lemon buttercream.
Lemon Buttercream Frosting
Ingredients
225g unsalted butter, softened
6-8 cups icing mixture
¼ cup milk
Zest of 1 lemon
Juice of ½ lemon

1. Beat the butter till it is creamy, then add three cups of the icing sugar, milk, lemon zest and juice and beat at high speed for five minutes.2. Gradually add the rest of the sugar, adding one cup at a time and beating for five minutes after each addition. Once all the sugar has been added, continue beating at high speed till the mixture is extremely pale, light and very fluffy. Use immediately, or cover tightly with cling wrap if you're not ready to ice your cupcakes just yet.
3. Fill your piping bag, then pipe your frosting onto the cupcakes with a slow, steady hand, making sure you keep an eye on the pressure you are using so that you try and use the same amount of frosting for each cupcake. Once you've piped your frosting on top, you can think about what additional decorations to add — feel free to use anything from rainbow sprinkles to fondant figures!