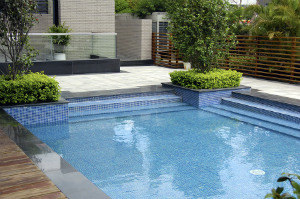 Choosing the right pool surface is a vital part of the success equation when planning a new pool

It all starts as a dream. A little piece of paradise built in your own garden. You imagine yourself floating and your children playing happily. During this reverie it's unlikely you'll be imagining exactly what interior surface your pool has. But it is a very important consideration and one that will impact on what style of pool you end up with.
There are many different types of pool surfaces. The most popular are pebble, tile, paint, fibreglass and the relatively new innovations in pool surfaces such as Quartzon, Beadcrete and Koralcrete. Pebble is well-suited to free-flowing shapes; tiles are good for more formal geometric designs; and some of the newer surfaces can be the better choice when you need a more versatile pool surfacing solution.
According to Stuart Bevan, builder and pool designer of Stuart Bevan Pools, there are two equally important things to consider when choosing a pool surface. "First, it has to feel good," says Stuart. "And second, it has to look better than it feels."
Peter Glass, landscape architect of Peter Glass and Associates, suggests that texture, colour and visual appearance are important, as are taking into account your budget and the longevity of the surface.
"If you need to gain more intensity in the colour, tiles will offer a potentially superior finish," says Peter. "The location of the pool is also something to consider. In shaded areas, for example, the colours will be more intense than in a sunny position.
"For areas with lots of trees, a darker colour may be preferable for maintenance reasons, since leaves can stain surfaces and may affect some finishes more than others. Both from an aesthetic and functional point of view, we consider tiles a good investment if they don't blow the budget, simply because they look stunning and stand the test of time.
"I have a personal preference for quality Italian glass mosaics over ceramic tiles," says Peter.
Frank Morden, builder and pool designer of Natural Swimming Pools, also prefers tiles. "A fully tiled pool is still the best option when it comes to cleaning and maintenance," says Frank. "Tiles are far more resistant to staining and less affected by chemical imbalance.
"Fine river pebble and quartz render are excellent non-slip finishes for family pools where children want to play ball games and the like. They are, however, more reactive and prone to staining as well as calcium scale, if the correct chemical balance isn't maintained," he says.
Stuart Bevan is also a keen advocate of tiled pools. "Tiles are definitely worth the money. Just the fact there is an unlimited colour range makes tiling the best proposition. My own pool is fully tiled with glass mosaics in a great-looking colour called Amethyst, which even sounds brilliant," he says.
Mosaic tiling is the premium end of pool surfaces and has been around as long as swimming pools themselves. Mosaics are tiles that are attached together to create a look, pattern or image. They were first used in Mesopotamia and formed an important part of the appeal of ancient Rome's public baths.
In the modern pool building industry, there are two main types of mosaics: surface tiles and decorative tiles. And the term mosaic generally applies to basically any tile on a sheet, typically between 10mm2 to 100mm2.
Mosaics can give a beautiful, deeply coloured shimmer to pool water. Sometimes they are used judiciously, to line the spa, for example, or as waterline tiles around the top of a pebble pool, giving the impression of a pool that is fully tiled.
Mosaics can be made from glass, marble, porcelain or ceramics. Glass tiles are made from silica sands with added colour and sometimes a mineral — even gold — to give sparkle to the water. Some tiles are vitrified, which means they are baked at high temperatures to take out the porosity. Porous tiles will eventually absorb the minerals and chemicals from a pool and discolour. Marble tiles can be vitrified or tumbled.
With mosaics it's also important to consider the colour of the grout, as it will make up about one-fifth of the surface colour.
Decorative mosaics use the same principles as mosaic tiles. There are lots of small pieces of tile put together to create a pattern or image. These are popularly used as features in pool floors or for stunning murals alongside the pool.
With tiled pools there are a few safety considerations, as Peter Glass explains. "You should have rounded corners for seats and steps so there are no sharp edges. While this is the case with all pools, it is especially so with tiled pools," he says.
Large-format ceramic tiles are also becoming popular, especially with square-edged pools as they provide a modern, clean look.
Pools can also be surfaced in stone, such as tumbled marble or granite, and also stone-mesh sheets, which are applied in a similar way to mosaic tiles.
A pebble surface, in which a natural pebble and concrete mix is applied over the concrete shell, is one of the most popular forms of pool interior, largely because it is inexpensive. When a pool price is quoted, the standard cost often includes the pebble surface. Other surfaces, including tiles, paint or specialised quart interiors, will cost extra.
Pebble is particularly suited to natural pools. The colour is generally light and realistic. It is easy to apply pebble to the free-flowing contours of a natural design. And you can easily accommodate natural effects such as beaches and stone features.
When choosing pebble, avoid a mix that includes crushed pebble or crushed marble, as this will increase the roughness of the surface. In general, the smaller the size of the pebble, the smoother the finish. However, larger pebbles often give a better colour.
Colour can be affected by the type of pebble mix, coloured dyes that may be added to the pebble, coloured quartz that may be added to the mix, and also the colour of the cement base. There are two basic pebble colours in the popular palette: white and gold. The most popular colour is white Australian pebble, which gives aqua-coloured water. The gold gives a turquoise-green colour.
Quartzon is a colourful alternative to pebble. It has been around for more than 10 years and its popularity has grown steadily. The Quartzon process uses a coloured quartz called 3M Colorquartz combined with a super white cement. The range includes StarFleck, which has sparkling highlights.
Beadcrete is another alternative, using glass beads instead of pebbles. The beads are set in cement with a mixture of Colorquartz and fine-grade 1mm aggregate. This combination provides excellent reflective properties, as well as being smooth, non-slip and easy to maintain. Beadcrete comes in nine different colours and customised colours can also be mixed to suit.
Koralcrete is perhaps the newest of the pool surfaces. After the concrete pool shell is finished, a two-part latex-based interior is sprayed on. Koralcrete provides a deep blue colour with a limited slip surface, which is sturdy and long-lasting.
Concrete pools can also have a painted surface. One of the benefits of this is flexibility. You can change colours when you renovate your property, for example. Some paints can also be used to refurbish fibreglass pools.
When choosing a surface, ask to see examples where you can look at the water colour during different times of day. Then consider if that is, indeed, the look you want for your pool. And don't forget the touch test. What a surface feels like is as important as how it will look in your pool.