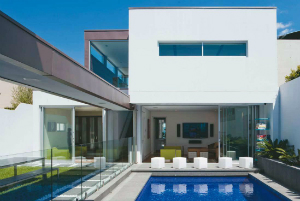 This light and airy Manly home has all the inclusions of luxury living, including stunning ocean views. When Len Wallis Audio jumped on board, however, the company took this new construction to another level.
The clients wanted sound and vision in every room. They enjoy listening to many different audio-visual sources, as well as entertaining guests in various zones of the building. Stroll through this dwelling and you'll uncover some of Len Wallis Audio's best work. You'll find the company's audio craftsmanship dotted throughout, in the living room, terrace, lounge room, pool area, kitchen, four bedrooms and the wine cellar. Each feature is strategically placed to meet the clients' brief and add to the home's modern and fresh interior. The project came with its challenges. Designer Peter Greentree put special design considerations to the test to create a seamless finish and clean design.
The living space includes an 85-inch Panasonic plasma display that travels through a cabinet, which is cantilevered off the wall and down into the floor. The team pulled out all their tricks here. The large television screen had to magically disappear not just into a cabinet, but also under the floor. This required a specially built lifting mechanism to achieve the successful result. When the owners choose to only listen to music in the living room, the plasma remains hidden. As soon as a video source is selected, however, it rises from the floor and slinks out the top of the cabinet. A multi-room audio-visual and control system was designed and installed around Creston products. There are six Creston iPod docks located around the house to provide endless listening possibilities.
With a house often full of guests, this system gives the owners the freedom and ease to manipulate audio options and control sound from numerous points in the structure. A TiVo unit, three HD Foxtel boxes, both local and distributed Blu-ray players and a Fetch TV receiver make up the myriad video sources to choose from. It's a collection of technological features that not only allows the clients to never miss a moment in the always-entertaining world of visual entertainment, but also keeps the children happy with endless viewing opportunities at their fingertips. Not only did the team weave an impressive audio and visual system into this new home, they also integrated all zones of the home into a CBUS control system. For the added convenience of the owners, this system is their one-stop spot to control window louvres, lighting and security aspects.
It's the finer details that make this project a successful and stylish one. Len Wallis Audio has used its tech prowess and delivered an easy-to-maintain system that projects the beauty of sound and audio to all areas of this modern home. Whether you're out by the pool or exploring the wine cellar, you'll never miss a beat.