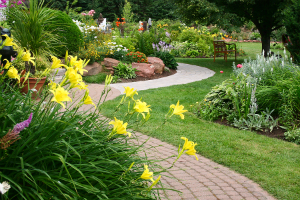 For foliage variety and low water use, you can't ignore succulents 
Story: Dean Boone, MAILDM
In times of drought or plenty, succulents look incredible. And the range of colours, shapes and sizes will make you think that a garden solely made up of succulents is surely the most water-wise.
Succulents are a group of plants that store moisture in fleshy leaves. Unlike cacti, they don't bite and most are quite smooth to the touch. One of the most well-known succulents in Australian design would have to be the agave with countless gardens using what is one of the most elegant plants to make a statement — the perfect water-wise garden statement. Many succulents have a strong architectural form and a pure silvery-green colour like the agave yet the range of colours and foliage form is wider than most people imagine.
Succulents are more than just plants for drought-tolerant gardens. They can live through the toughest conditions, can tolerate long, dry periods and seem to flourish when others flounder, but what I like best is how easily they can work in with so many other planting styles. European and American gardens often use succulents in creative ways (such as planted in an elegant urn atop a stone plinth); modernist gardens use swathes of succulents in silvers, black, cherry, yellow and green to make ribbons of drought-hardy plantings.
I have seen succulents, like sedums, that flower prolifically in 'natural' gardens — those that recreate a meadow-style of planting — and would rival any other flowering plant for impact. There are many succulents that flower and often in bold oranges and reds. Some produce bell-shaped flowers others soft, feathery blooms.
Succulents really are a broad group of plants and come in all shapes and sizes. Use them in pots, on balconies, in courtyards, as great big drifts in bigger gardens, by a pool or on a rooftop. You name it, there's a succulent that will suit your garden and probably more than just one. By grouping a variety of succulents together you will create a colourful, interesting and hardy garden.
Give them an annual feed, mulch like any other plant, water occasionally and you're away. Popular as groundcovers, stately feature plantings and planted en mass, succulents are diverse, inspiring and definitely worth a place in every garden.
About the author: Dean Boone of Distinctive Gardens & Interiors is a Sydney-based landscape designer and a presenter on the popular television program, The Garden Gurus.
Read all about it!
The Succulents for the Garden series covers everything you need to know about using succulents and cacti to create a colourful, lush-looking garden. The books — Succulents for the Garden, More Succulents for the Garden, Succulent Success in the Garden, Succulents: Care and Health and Succulents: Propagation — were written by Attila Kapitany and Rudolf Schulz, specifically for Australian conditions, and each retails at $23.95. For more information: www.tarrex.com.au.