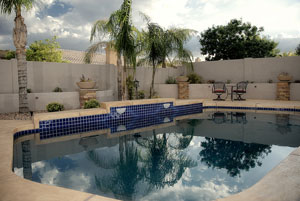 Summer is here and it's time to enjoy the full resort experience, right in your own backyard

Story: Natalie Raad
Australians love the outdoors, s it's no surprise the resort-style garden continues to be a popular design theme. No longer are we willing to wait for that holiday to enjoy the comforts of a resort, be it a tropical island retreat or a mountain hideaway. Rather, we are incorporating resort elements into our gardens and basking in their glory all-year round.
According to garden designer Dean Herald, of Rolling Stone Landscapes, the resort-style theme is well suited to our lifestyle and climate
"We love the idea of resort living, so rather than waiting to go on holiday, we are taking an element, a taste of resort-style living and introducing it into our own backyard," says Dean, who has won Gold awards for his lavish resort designs at both the Chelsea Flower Show in London and the Melbourne International Flower & Garden Show.
Resort-style living is about function, comfort and relaxation. These spaces are an escape from the everyday, where luxury meets functionality and where our desires become reality.
According to Andrew Jakovac from Majestic Pools & Landscapes, modern touches are becoming more and more important in today's resort-style garden. "Fifteen years ago, we were building pools with an island, a beach, some bush rocks and a gazebo. But these days, bars, outdoor cinemas and sound systems, outdoor kitchens and striking water features are becoming more and more necessary," he says.
In a garden design that embraces resort-style living, the pool is much more than just a place to swim. It forms the centrepiece, with the design of the space working around it.
It's not the size or shape of a pool that makes the impact, although that can be a part of it. It's the effect a large body of blue water has. In design terms it makes a strong focal point; in lifestyle terms it is a siren call to come outside, dive into the water and let your cares flow away.
Relaxation is an intrinsic part of resort-style living. As such, the intimacy and relaxation potential of an outdoor spa makes it an ideal element in a resort-style garden. A spa can be integrated into the design of your swimming pool or it can stand alone. One popular trend is to place a spa in a corner of the garden beneath a thatched hut. You then create a meandering stone path that cuts through tropical foliage to lead you from the deck to the spa, recreating that holiday resort experience.
We can all enjoy the ambience of our favourite resort in our own backyards thanks to the availability of a broader range of outdoor furniture, upholstery fabrics, and decorative pieces such as beautiful works of all-weather wall art and designer outdoor light fittings.
Previously there was only a select range of expensive European furnishings available for the outdoor space. Today, however, there is a lot more variety when it comes to outdoor furnishings and at a much more affordable price, says Dean.
This affordability means you can get the resort-style look without spending too much money and the broader range of furnishings means you can furnish your garden in any way you choose to set the theme that appeals most.
Another key element of resort-style living is the outdoor kitchen, which Dean believes has become an integral element in the design of modern outdoor living and entertaining spaces.
For those who like to entertain, a simple barbecue is often not enough. It needs those all-important extras like storage, preparation space, towel racks, condiment trays, extra burners — possibly even a sink and an under-bench fridge. At the luxury end of the market, the barbecue might be just one element in a custom-designed full outdoor kitchen.
"This idea of the outdoor kitchen is not a trend. I believe it is more of a realisation. Outdoor kitchens are suited to our climate and lifestyle. We love the outdoors so it only makes sense that we incorporate kitchens into these spaces," says Dean.
Entertaining outdoors traditionally involved the host running in and out of the house to grab this, check on that, which meant missing out on some of the fun. "If you design your outdoor space right, you'll be able to enjoy outdoor entertaining a lot more," says Dean.
Enjoyment, luxury and convenience are the bywords of an outdoor space designed to replicate the holiday resort experience. The best thing about a resort-style garden is that all the items you require for entertaining or relaxing are in place, ready to fulfil their purpose. Everything is at your fingertips and the only thing you have to do is sit back, relax and enjoy it all. As Andrews says: "The whole essence of why resorts exist is entertainment, enjoyment and relaxation."
Clearly, a resort-style garden is a place for outdoor living so it needs to be designed with function and comfort in mind, which means scale and size are important design factors.
Although the elements that go into an outdoor living space, such as furniture and outdoor kitchens, are important in setting the theme, it is the design layout that is crucial.
"Scale is an essential consideration when designing a resort-style garden. The principles of scale apply to all elements of the garden. Understanding the scale of your outdoor space and the elements within it will result in a balanced garden," says Dean.
It's important to avoid clutter, he adds. When you look out from the inside, your view should not be obstructed by large outdoor furniture, over-sized art works or poorly placed walls or screens. You also need room to walk around your outdoor space, which means wide paths, pool surrounds, decks and paved areas that are free of objects that might cause you to stumble and make the garden appear unkempt.
Placement of items is important, says Dean. "You can have the right elements but get the placement all wrong." Placed well, a sculpture, water feature or potted plant can become a focal point, drawing the eye towards a pleasing vista.
While there are many elements that you must combine to create an aesthetically appealing landscape, the way the garden design meets its purpose is the most important. That's why function is a critical factor. Above all, Dean believes you should value the design process. "Great ideas stem from design, not construction," he says.
Most people spend more on the actual construction than the design, which can result in lots of money being spent on bad ideas. "If the design is right, then the end result will be too," says Dean.
Andrew agrees. "Good design is the only way to achieve a successful resort-style project but good design isn't something you can box into a 'trend' — good design is timeless," he says.
When creating your own resort-style garden, think about what it is that makes the concept of resort-style living so appealing. More than likely you'll discover it is not just one element but rather a combination of things — having a place to swim or relax, being surrounded by lush plantings and shady trees, sharing good food with good friends — that you need to pull together to create your personalised version of the holiday resort experience and make resort-style living a reality in your own backyard.