A pool is the ultimate focal point, visually and as a social hub for family gatherings. Take the plunge and get one of your own with this handy guide.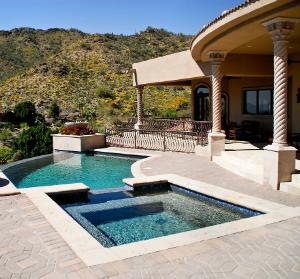 By Lyn Bernadzik
For many of us the phrase "it's a lifestyle decision" has almost become a motto in recent years. In this increasingly competitive world it is time with family and friends that is more often than not sacrificed in an effort to complete our day's work. Families are seeking an antidote to this hectic way of life and for many, investing in a pool is proving to be the answer. A pool is the ultimate focal point. Not only in an aesthetic sense but as a social hub where you can gather with family and friends.
Ian Barker, principal designer of Ian Barker & Associates and director of Enkipools has been designing gardens for over 20 years and says that most of his more recent clients have been asking that a pool be incorporated into their garden design.
Ian believes the most fundamental "rule" when planning a pool is to ensure it is designed as part of the garden and not simply "a pool in a garden". This is best achieved by consulting a professional landscape designer who can advise you on the best possible placement. "Clearly, pools are a considerable investment. It may seem obvious but their placement in a garden is often neglected and it is critical to get it right," says Ian.
Generally speaking, pools should be positioned parallel to the back of the house. Placement in full sun is not always possible, however, or advisable. Ideally, approximately 70 per cent of the pool should receive full sun, the remaining area being shaded, or having access to shade, to provide respite on a hot summer afternoon.
"As the ultimate water feature, pools should also be positioned where they offer the most spectacular view from inside the house. In this way, even when the pool is not in use the beauty and serenity of the water can be enjoyed," says Ian.
The size and shape of your pool is another consideration. Naturally, this will largely depend on the area in question but when briefing your designer, explain how the pool will be most often used. Again, this may seem an obvious point but it is too often neglected. Think about how many people will consistently use the pool. Do you anticipate swimming laps or maybe just taking a dip to cool off and have a bit of fun? This will help you to determine how big a pool you need.
The shape of the pool will often be dependant on the available area but personal taste is also a major factor as is the style of the residence and the garden surrounds. As a general rule of thumb, rectangular, straight-edged pools usually complement formal and contemporary house and garden settings. Curved lines complement a more whimsical, meandering style garden as well as tropical and rustic settings.
One thing people need to remember that is lack of space, or having an awkwardly shaped outdoor space, need not be a barrier. A lap pool can stretch alongside a house or along a boundary wall, and a spa-plunge pool can fit into a courtyard space or a deck. The same principle applies for people with sloping blocks. With some clever design and the right engineering advice, pools can be built on just about any site imaginable.
The colour of the interior surface of your pool is yet another decision to be made. Gone are the days when your choices where blue or blue. Ian suggests doing plenty of research before making a decision. Review lots of pool and garden magazines and visit as many pools as you can. The colour range, whether you are opting for tiles or a rendered surface, is now quite extensive and can make an extraordinary difference to the look of your pool and the success of any landscaping scheme.
"As a general rule, navy blue and dark green pool interiors give a 'classic' look," explains Ian. "White interiors result in water which appears to have a soft aqua appearance, which is a beautiful subtle look for contemporary settings. Black interiors are spectacular but can be rather confronting for children so perhaps a choice to be avoided for those with a young family. Black, white and baby blue are presently fashionable choices."
Pool fencing is another area where choices are much improved from years past. Regulations will largely determine the dimensions and location of the pool fence but the style of the fence is more open to personal taste and design criteria. Glass fences, powder-coated steel or a combination of the two are the most popular options.
One of the questions most asked of Ian is whether or not the pool should include a spa. "From a design perspective a pool will be no more successful with or without a spa," he says. "It is important to note, however, that a heated spa does add considerably to the cost of your pool. Plumbing costs at the time of installation and on going spa heating costs are points to contemplate."
Clearly, there are many decisions to be made when building a pool, but it need not be a stressful process. Says Ian: "Planning is the key. Your first step should always be to consult a landscape design professional as correct pool placement is paramount. Once this is established you will find that the rest of the decisions follow as a matter of course."
And Ian's final words on the matter? "Pools of any shape and size are a tremendous asset. Pools enliven areas when they are in use and add a sense of serenity when they are not. During the planning process, homeowners are well aware of the commitment they are making in monetary terms and the value they are adding to their property but it is quite often not until the pool is complete that they can appreciate the true value to their family and their lifestyle."
DETAILS
Ian Barker Garden Design: http://www.landscape.net.au/ 
Enkipools Website: http://www.enkipools.com/