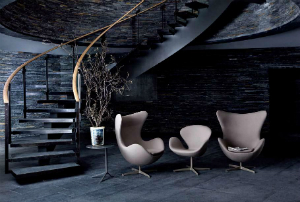 Compiled by Kate St James Buying designer furniture comes at a price, but as the saying goes, the quality will be remembered long after the price is forgotten. Classic designs that have stood the test of time are still in production and today's contemporary designer furniture is just as desirable for those looking for quality in design and manufacture. Well-cared-for quality design can look as good in years to come as the day you bought it and you may even find buyers lining up on eBay to pay more than you originally paid for a design classic — assuming you ever want to part with one.
There are many iconic pieces of furniture that turn up in interior projects over and over again. From London to New York, Paris to Sydney, you will see these pieces being specified. Our feature home on page 132 this issue is testament to that. These pieces include such items as the Egg chair, the Series 7, the Barcelona chair, the Eames chair and ottoman, the Tulip chair and table, the Corbusier chaise, the Breuer chair and the list goes on. But it's not just the modern classics that are finding favour with designers and consumers. There are many contemporary pieces on the market gaining icon status, too. What, then, are these pieces of furniture which command such attention from the design community and the savvy consumers who buy them? We took a look inside the design houses responsible for these desirable pieces of design excellence and spoke to the people who are passionate about their brands. Modern classics One of the most recognised and specified pieces of furniture ever must be the Mies van der Rohe Barcelona chair.
Originally designed and made more than 80 years ago for the International Exposition in Barcelona — and still in production today — the Barcelona chair caused a sensation. Designed by famed Bauhaus architect, Mies van der Rohe, and his partner, architect and designer Lilly Reich, this icon of furniture design is still a "must have" for design aficionados as well as architects and designers. Based on the design of the folding chairs of the Pharaohs and Romans, the chair served as a centrepiece of the German Pavilion at the Exhibition, which was also designed by Mies. While Mies' original design and specification were modified with the advent of stainless steel, very few changes distinguish it from the original and today, the Barcelona chair is manufactured by Knoll exactly as it was in 1929. The chair is almost completely handmade and as a sign of authenticity, Ludwig Mies van der Rohe's signature is stamped into each chair. Available from dedece. Designed in 1958, Arne Jacobsen's Egg chair was originally commissioned along with its partner, the Swan chair, for the lobby and reception areas at the Royal Hotel in Copenhagen. These pieces have been in continuous production by Fritz Hansen since then and this is one piece of furniture that once seen, is never forgotten. In 2008 Fritz Hansen wanted to commemorate the 50-year anniversary of its manufacture with something special, so he turned to Danish artist, Tal R, to create the 50th Anniversary range. Tal created 50 unique and unconventional designs ranging in a variety of colours and patchwork patterns.
The 50 chairs toured galleries and museums around the world before returning home to Denmark. Fritz Hansen's Australian partner, Corporate Culture, exhibited the chairs in September, 2008, and is the only Australian supplier of the authentic Egg chair, which is available in a range of fabrics and leathers. The Tulip range by Eero Saarinen was introduced to the market in 1956. Saarinen's design addressed the "ugly, confusing, unrestful world" he believed resulted from "the slum of legs" underneath "typical chairs and tables" and realised his ideal of formal unity with the Tulip chair and pedestal table collections for the Knoll Studio. These majestically effortless, one-legged moulded fibreglass chairs and tables have since become symbols of mid-20th century modern design and mainstays of the Knoll design legacy. The Saarinen collection reflects the Knoll Studio's commitment to timeless, enduring design. Its range includes coffee tables, side tables and dining tables in various diameters. For the total luxury option, go for the marble top. Available from dedece.
The Ball chair is a totally unconventional shape — a room within a room — a private space for relaxing, reading or using the telephone. Manufactured by Adelta, the fibreglass and fabric chair on a swivel base was designed by Finnish designer Eero Aarnio in 1963 and it earned him an international reputation. Following the Ball chair came the Bubble chair, a clear acrylic bubble which hangs from the ceiling. Like the Ball chair, the Bubble chair also impresses the user due to its special acoustics. The Bubble chair swallows the sounds and you feel isolated inside it in a pleasant way, even when you are in a crowded place. A few years later the Pastil and Tomato chairs came out and still today, Aarnio loves to work with plastic. Available from dedece. Ball Chair. Bubble Chair. Pastil Chair. Tomato Chair. The Womb chair and Ottoman, designed by Eero Saarinen in 1948 for Knoll Studio, features a shell of moulded fibreglass and polyurethane foam on a steel base. The steel rod base is available in polished chrome or black powdercoated finish.
The Ottoman has a foam cushion over a plywood shell. Seat, back and ottoman cushions are polyester fibre with foam core. Feet are stainless steel with protective nylon glides. It is available upholstered in the fabrics of the Knoll collection. Available from dedece. American designers, Charles and Ray Eames, brought a sense of play to all their work, including the Hang-It-All. It took the everyday coat rack to a new place that was inventive and fun. More than just a conversation piece, the Hang-It-All holds anything that slips over its colourful hooks. Available from Living Edge. Considered one of the most significant and widely recognised furniture designs of the 20th century, the Eames Classic Lounge Chair and Ottoman combination is an enduring standard for comfort, elegance and luxury. Designed in 1958 and made by Herman Miller, the chair has 152mm-thick urethane foam cushions and rich leather upholstery. The contours of the seat and high back welcome the sitter, and a swivel mechanism is built in. The chair is composed of three curved plywood shells, however, in modern production the shells are made up of seven thin layers of wood veneer glued together and shaped under heat and pressure.
This differentiates the newer chairs from the "original" (vintage) chairs which used Brazilian rosewood veneers and were constructed of five layers of plywood. All pieces are hand-assembled and the entire chair is finished to an extremely high standard. Available from Living Edge. Another Herman Miller brand, designed in 1955 by George Nelson, the coconut chair (below) is one more 20th century furniture icon. It has a simple, striking shape; the moulded plastic shell sits atop a three-legged chrome steel base that is comfortable in both the home and office. With its shallow sides and inviting curves, the chair is designed to let you sit in any position and the steel glides allow it to move with ease. Constructed from one piece of foam rubber, the leather-upholstered cushion provides comfort and classic good looks. Available from Living Edge. Danish upholsterer Erik Jørgensen commenced furniture production in 1954. The innovative designs are based on the Scandinavian tradition of uniting form and function. The resulting sofas, chairs and modular systems have high utility value, comfort and durability. Today, Erik Jørgensen also produces a line of upholstered furniture designed by internationally renowned architects.
The collection covers furniture for the home as well as the contract market. The Corona chair (right) was designed by Poul M. Volther for Erik Jørgensen. Four upholstered shells provide maximum support of the human body with particular attention to the spinal column and ribs. The design is available in a range of quality fabrics and leathers on a matt chrome steel support. The stylish design is suited to both residential and commercial applications. Available from Corporate Culture. The Series 7 (below), designed by Arne Jacobsen, must be the most recognised chair in furniture history. It is by far the most sold chair in the history of Fritz Hansen. Made from pressuremoulded veneer, the four-legged stackable chair can be seen as the culmination of the use of the lamination technique, which was refined to perfection during the '20s and '30s by Søren C. Hansen, the grandson of the founder, Fritz Hansen.
The visionary Arne Jacobsen exploited the possibilities of lamination to perfection, resulting in the iconic shape of the chair. Series 7 represents the chair in the Fritz Hansen collection with the widest range of applications. It is lightweight and stackable and offers options such as armrests and castors etc. You can choose from an extensive palette of colours and finishes, fabric or leather upholstery. It is available in a wide range of lacquer or natural veneers including maple, beech, ash, cherry and darkstained oak. Available from Corporate Culture. The Plateau chair, designed by Erik Magnussen for Engelbrechts, is set to join its predecessors as one of the classics in chair design. The Plateau was adapted to suit contemporary lounge chair behaviour and fill a gap in Engelbrechts' range, "a missing lounge chair". Erik set out to find what it was that people looked for in a typical lounge chair. The answers included seeking privacy, having meetings, working alone and having a cup of coffee! When you look at the Plateau it's easy to see how he came up with the final design.
Erik believes that the best way to be sustainable is to manufacture products that are durable and hence have a long life. Available from Interstudio. The Embryo chair by Sydney-born Marc Newson was released in 1988. His status as Australia's superstar designer has propelled his designs into the spotlight and into the homes of discerning consumers. And who wouldn't want to own this little slice of history? Available from Corporate Culture. Tom Dixon's Wingback is a series of upholstered furniture inspired by the 18th century British Gentleman's Chair. Traditionally manufactured, the frame is made from solid birch and stuffed with layers of natural cotton and boar bristle. The Wingback is an iconic feature in the Tom Dixon collection. Available from dedece.
Tom Dixon's Spot Table is a series of tables glazed in vitreous enamel, a finish typically associated with science labs and cooking equipment. The result is an indestructible surface with an extraordinary depth of colour. The weighted base and interchangeable height stems are made from cast iron. Available from dedece. Interior designer Katherine Norman and industrial designer Caroline Quaine collaborated to form Norman and Quaine in 1989 with the intent of designing a range of locally produced furniture and lighting for the Australian market. This versatile range, including Grace and Demille, was developed over the years and has a subtle reference to the proportions and function of mid-20th century furniture. It is comfortable, accessible and affordable and includes upholstered products, tables, storage and lighting. Available from Living Edge. For more than 70 years, the people at Anglepoise have created table lamps and table lights that are now British design classics. In that time, they have redefined all a table lamp has been and can be. Their table lamps remain true to George Carwardine's original design while incorporating modern features, such as energy-saving bulbs. These energy-saving lamps are designed to replicate the intensity of light that is demanded by professionals, such as graphic artists and interior designers, but they look equally at home in residential studies and the "home office". Available from Corporate Culture.
The Artichoke Pendant, designed by Poul Henningsen in 1958 for Louis Poulsen, is considered a design masterpiece. It consists of 72 copper "leaves" in 12 circular rows with six blades in each row. The design allows viewing the fixture from any angle without being able to see the source of the light. It was originally designed for a restaurant in Copenhagen (they are still hanging there today) and it can be seen in many commercial and residential applications the world over. Available from Corporate Culture.