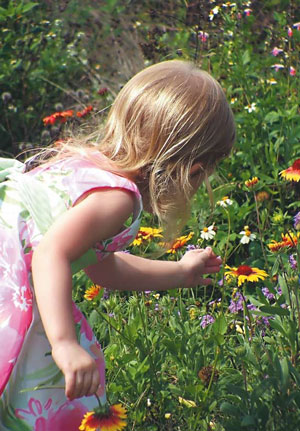 Spruce up your indoor and outdoor areas this spring with this to-do list
Outdoors
Think holistically when you are planting in the garden. How about some plants especially to attract and feed native birds? Add some beautiful grevilleas, hakeas and callistemons or bottlebrush, with their honeyscented flowers.

What about some plants in the garden especially for children to pat and pick? Stachys lanata, or lambs' ears, with its smooth, felty leaves, or perhaps lemon balm or scented geraniums, which smell wonderful crushed and are also edible. More popular plants include nasturtium, zinnias and daisy bushes of all sorts.

Paths and steps can become slippery with algae and moss over winter. Use an organic mould and algae killer for outdoors or make your own. Use a cup of vinegar to a bucket of water; add some lemon juice and a few drops of lavender, lemon or eucalyptus oil to disinfect and it will smell wonderful. For really tough mould, use a stiff deck broom normally used for cleaning down boats. Find ways to allow more sun and air circulation into the area.
Indoors
Time for a green spring-clean. Allow fresh spring breezes all through the house to add plenty of healthy negative ions. Make your own indoor room freshener spray with 20 to 30 drops of your favourite essential oil mixed into 500ml to 1 litre of water and 1–2 teaspoons of vodka and place it in a spray bottle.

Spruce up the bathrooms and kitchen with your own safe, cheap and easy cleaner. Mix bicarbonate of soda with water to make a paste, add a few drops of your favourite essential oil and place into a strong screwtop glass container. Use a dry or damp cloth with this and, if the mix dries out, refresh it with some more water and oils.

Use the aromatherapy benefits of essential oil to add zest to your day. HPH Lavender oil has proven relaxing and destressing properties, while lemon, orange or basil oil are stimulating to the senses, rosemary stimulates good brain activity and patchouli or rose geranium lifts the spirits!

Pick lots of flowers to bring indoors and enjoy, or buy several bunches from growers, to treat you and your family for your efforts this spring.
Turn over a new leaf
Find ways to reduce electricity usage and turn off lights and appliances when not in use. Use water even more efficiently. Walk to work and school, buy and ride a bike or use public transport.

Visit local growers' and farmers' markets in your area to shop locally.
Vegetables and herbs
Plant out all sorts of vegetables. Try beetroot, capsicum, carrot, endive, cucumber, lettuce, marrow, squash, pumpkin, tomato, zucchini, sweet corn, rockmelon and French beans.

Choose a sunny day to plant some of your own herbs from seed. Easy ones to grow now are basil, parsley, coriander, dill, marjoram, Italian parsley, lemon balm and mint. Well-established plants such as mint, thyme and lemon balm can be divided to make more plants to share with friends.
Fruit trees
Add several shovelfuls of compost around all fruit trees for a nutritious top-dress to encourage even more active growing.

Keep fruits such as apples, pears and stone fruits well watered while they are developing so they will be juicy when ripe.

Watch for codling moth on apples and pears and aphids on nectarines, apricots and peaches, and control them early in the season.