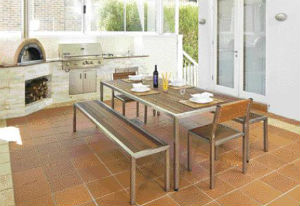 With the right furniture you can transform an outdoor room into an entertaining hub
How well an outdoor room is furnished is just as important as how well it is designed and how convenient is its location. If you want your new outdoor room to be used and enjoyed, you need the right outdoor furniture — something that combines style with strength and designer flair with durability.
Affirm Welding's range of stainless steel and hardwood outdoor settings ticks all of the boxes. Custom made in Australia to withstand the often punishing Australian climate, these stunning pieces are modern, sleek and of timeless design.
The range is diverse and includes dry bars, couches, dining tables, stools, chairs, garden and park benches, coffee tables, outdoor kitchens and planter boxes. All pieces are custom made by hand to ensure the best possible quality and all frames are fully mitred.
Affirm Welding uses only Australian sourced materials, which includes Australian timber. They can custom make a setting to any design and all pieces are made to order so you know that your new setting, planter box or couch has been specially made for you.
Customer service is of paramount importance and, as a small family-owned and run business, Affirm Welding is well placed to provide a level of service and personal attention that is all too rare these days. With Affirm Welding you can be assured that customer care is ongoing and that the owners will always prepared to go that extra mile to ensure you get something you will love and use for many years to come.
Over the years, Affirm Welding's furniture has graced countless private homes as well as commercial venues such as clubs, schools, community centres and corporate business premises. And while the company may be based in Melbourne, they have clients from across the country so no matter where you live, give them a call.
In addition to the creation of stunning outdoor settings, the company offers welding and polishing services so when you deal with Affirm Welding you know you are dealing with a company that can provide for all of your outdoor and indoor furniture needs.
For more information
Affirm Welding Factory 7, 36 Stephen Road, Dandenong Vic 3175 Phone (03) 9792 5333 Fax (03) 9792 5533 Mobile 0407 807 220 Email stainlesswelding@bigpond.com Photography Patrick Redmond