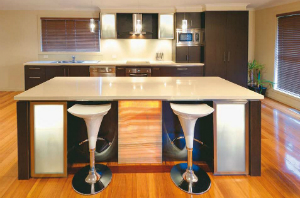 for this 1970s three-bedroom brick-veneer home, the original kitchen and lounge areas were somewhat small and obtrusive. The owners felt it was time to revamp the design of the house and called on the expertise of Devlin Interiors to take on the job. Deciding on an open-plan approach was easy as the youthful clients were open to the diverse suggestions and ideas of Devlin Interiors.
It was obvious the stunning outdoor decking that had recently been built leading out from the kitchen needed to be linked to the lounge and dining area, which had previously been cut off by an internal wall. The removal of this wall uncluttered the entire design of the home, providing a clean, wide space and a fresher atmosphere. A contemporary galley-style kitchen was installed and with the new open room, an island bench provided a breaker between the kitchen and the living area. The larger-than-average island bench is a feature in itself. An onyx marble feature on the outer side of the island is a spectacular element, which has been carefully centred between the stylish white bar stools and display lighting.
The sleek wenge of the cupboard doors is in harmony with the sophisticated stance of the stainless-steel Damani appliances and they are brought together by the Essastone Pashmina benchtops. Bringing the kitchen to life, however, is the lighting. Purposely placed, the lighting was designed in such a way that it creates a tranquil atmosphere in the evening, making the newly spacious kitchen and living room the place to unwind. The polished hardwood timber floors that flow through to the dining and living room are the perfect finish to the perfect makeover. Devlin Interiors has done more than fulfill the client requirements with this home, as the spectacular design earned the company a finalist place in the 2009 HIA Kitchen and Bathroom awards. Specialising in new and renovated kitchens and bathrooms, Devlin Interiors has been recreating interiors for more than a decade. They have the experience and expertise to create designs worth living in and this stunning kitchen and living area makeover is a prime example. Devlin Interiors was awarded the HIA renovated kitchen project for 2009.