Relax and unwind in your own backyard retreat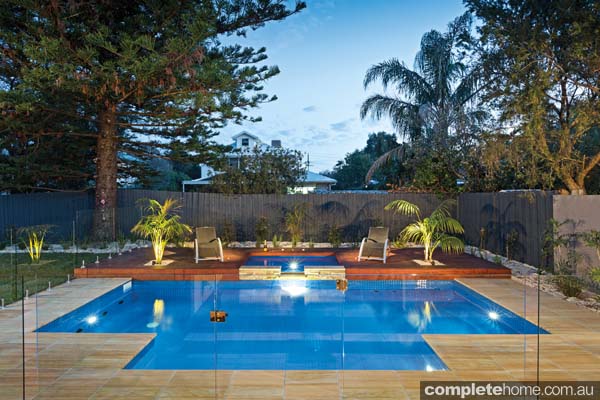 If you're looking for a pool and spa design reminiscent of a luxurious private retreat, the featured design by Casamira Projects will no doubt appeal. With a luxurious, tropical feel that will only enhance with age as the surrounding foliage flourishes and complements the teak sandstone pavers and merbau decking, this pool is the perfect backyard getaway.
The owners of this pre-existing Sandringham home, Andrew and Elizabeth, wanted a modern, tropical feel which would still complement their traditional Bayside Melbourne home. Casamira Projects completed this stunning pool and landscape design, creating not only a tranquil paradise, but also a functional and practical space.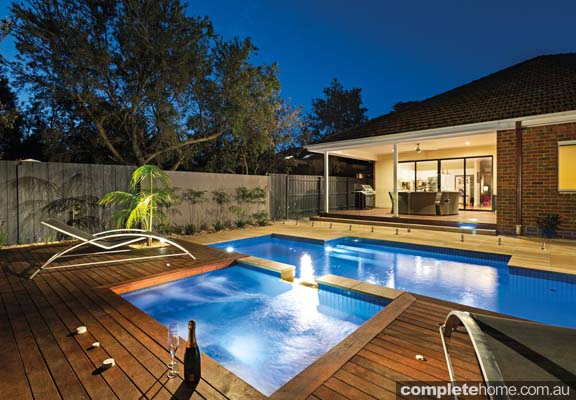 The symmetrical pool design measures 7m x 3.9m, with the spa measuring 2.4m x 1.8m and sitting proportionally among the rest of the garden and entertaining area, creating a calming balance between the elements. A stacked-stone water feature links the pool and spa, creating a soothing atmosphere and alluring feature to the overall pool design. The in-pool bench, which sits in front of the feature, includes an uplight for a beautiful glowing effect on the stacked stone throughout the evening. This is visible throughout the house, from the front foyer to the kitchen and dining, and then out the alfresco doors.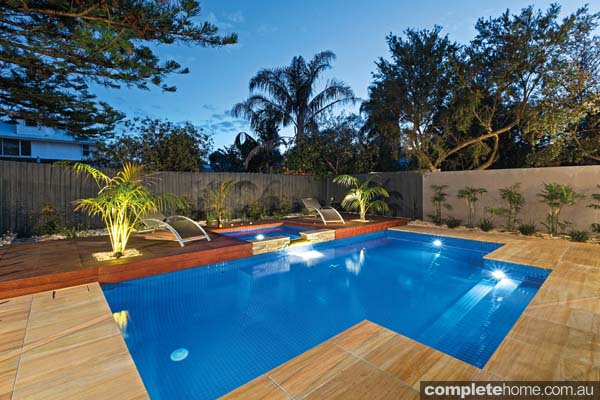 Flanked by kentia palms, pretty white murraya citrus flowers, gardenias, photinia shrubbery and rhapis fan palms, the landscaping complements the pool and spa, ensuring perfect cohesion in the overall backyard space. Rosemary has been used as a border, permeating a lovely scent throughout the garden.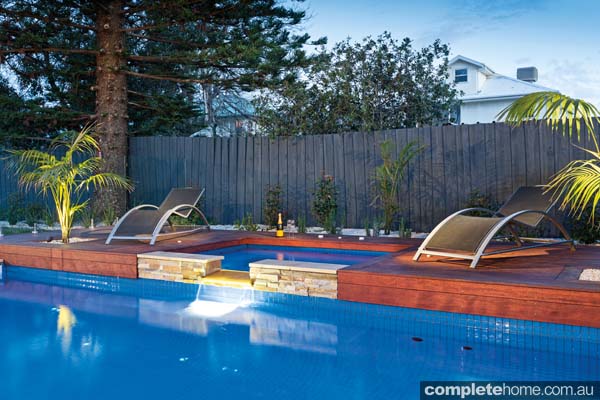 The pool includes several low-maintenance features such as Hayward's Max-Flo variable speed pump, which can save up to 80 per cent of energy costs, plus a semi-frameless fence by Glass Fit and lighting by Spa Electrics.
Casamira Projects is a family business directed by Elton Cummins, who has more than 18 years of design and building experience. Elton spent eight years in Dubai creating top-end pools and landscapes. He returned to Melbourne in 2011 and opened Casamira Projects. The company now works on 15 to 20 pools a year.
Based on the Mornington Peninsula, the team at Casamira Projects pride themselves on their client interaction and meeting client budgets with their unique design and quoting process. The company specialises in complete services for all outdoor living aspects, with the majority of the work undertaken "in house", minimising subcontracting and promoting more control over quality workmanship. All designs provided by Casamira Projects include 3D concepts and a virtual walk-through to help express the finished product. Casamira Projects can also provide two to three amended designs to ensure the clients' desired outcome is achieved.
At a glance
Pool designed by: Elton Cummins, Casamira Projects
Pool built by: Casamira Projects
Heating systems: Sunlover Heating solar heating and gas (Pentair MasterTemp 300mj)
Filtration: Hayward
Coping: Teak sandstone supplied by Exotic Stone
Tiles: Glass mosaic supplied by The Pool Tile Company
Pavers: Teak sandstone
Lighting: Spa Electrics
Decking: Merbau
Fence: Semi-frameless, supplied by Glass Fit
Landscaping: By Casamira Projects: kentia palm, murraya, gardenia, photinia, rhapis
Fact sheet
Pool and landscape designed and built by Casamira Projects
03 59 755 139
0437 359 887
Originally from Poolside magazine, Volume 44