The ultimate in outdoor living — that's what the discerning owners of this modern family home demanded.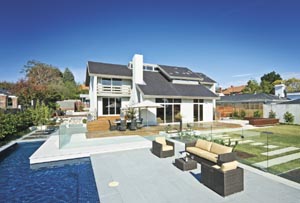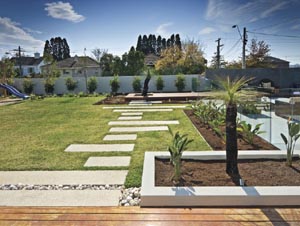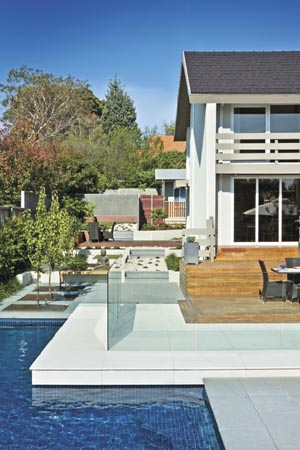 To deliver their dream landscape, they turned to Shawn Townsend and the experienced construction team at Ashtown Landscapes.
This contemporary design works on a variety of levels, from the sleek pool to the breakfast deck that is the family's favourite Sunday morning spot. By carving the 1600sqm garden into a series of outdoor rooms, each seamlessly linked through the use of repeated materials and shapes, Shawn has created a garden that takes you on an adventure.
The combination of natural materials — sophisticated granite for the paving, richly hued timber for the decking — was integral to the success of the multi-level landscape.
To showcase the platform that seems to "float" over the water, Shawn special ordered flamed granite 1000mm x 1000mm pavers. To complement this — and the strong architectural plantings — he used 500mm x 1000mm granite pavers throughout the remainder of the project.
The 12m lap pool provides ample space for relaxing and rewards swimmers with a view of most parts of the extensive backyard. To give the children somewhere safe to play, an expanse of dry-tolerant Sapphire Buffalo turf leads from the paved poolside entertaining area — to supervise, all the adults need to do is settle back into the wicker lounge set, supplied by Casual Life Furniture.
To capture the various textures and colours of the foliage, Ashtown Landscapes installed an extensive outdoor lighting scheme which gives this property another dimension at night. And to maintain the garden beds and lawn there is a fully automatic drip system and rotor pop-up lawn sprays which are fed from an underground rainwater tank.
"The key to the success of this project was the precision installation of the materials," says Shawn. "Being some two metres above natural ground level the sub base preparation was critical to achieving the desired result, as was correct drainage. The quality of the natural stone was also integral. Granite Works provides a large range of materials and is always ready with expert advice and support. All in all, the result was spectacular, a real achievement for the Ashtown Landscapes team."