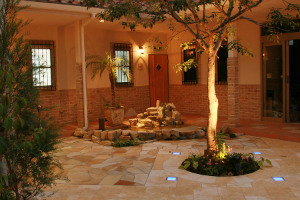 Let flexibility and fun be your guiding principles when designing for small spaces
Story: Dean Boone, MAILDM
Dimensions define the size of a space, not the style. Designing a garden for a small space is both challenging and rewarding. The challenges create opportunities and the trick is to know how to work with, not against, the problems small spaces may present.
With backyards becoming smaller and smaller and apartments becoming more of the norm for city living it pays to know how you can make the most out of your little patch of heaven, which is why I wanted to share some simple hints and tips to make a space feel bigger and more welcoming.
Focal points in any garden are used to draw the eye towards something you want to feature, or to divert the eye away from something you don't want people to focus on. Creating a focal point in your small space can make it seem more interesting and roomier. You can even oversize the focal point, such as using a massive urn, to trick the mind into seeing a space of grandeur. Create the allusion of increased depth by placing a climber behind, perhaps draped around a trellis, and you're on your way.
Colour in a small space is especially important and the same rules that pertain to interior design apply to exterior spaces. To add depth to a small interior space you would paint one wall a darker colour or create a pool of light with a low-hanging light fixture or, perhaps, assemble artwork on one wall to create an uncluttered gallery-like effect.
The outside is no different – darker colours help to create the illusion of depth, lighting can be used to draw the eye at night to a fixed point and wall art in the garden is a great way to add vertical detail in a very small space. Mirrors can even be used and set at a slight angle to reflect surrounding plant life. This creates a window effect and the illusion of increased space can be quite amazing.
Adding an element of surprise is always a good step and it's a way you can personalise your garden. Hang a massive, unexpected outdoor lantern on the wall or use a very vibrant splash of colour, like painting a pot vivid pink. The more theatrical the garden, the better. When you personalise your space, the visitor will focus on what it says about you, not on its size. So be brave, bold and have a little fun.
Small space design for gardens is often about creating a framework in which you can add little details to make it your own. Playing visual games is best done with colour as it gives you the greatest effect without losing any space. Try accentuating your garden walls with contrasting dark and light horizontal stripes. This will totally confuse the eye into thinking the space is bigger than it really is.
If you want to distract people from how small the space is, then reverse the colours. Choose all white furniture and put dark colours on the walls. The furniture will create an effect not unlike that of a pool of light so that it appears to float in a setting of brooding, deep dark colour.
Splashes of planted colour in pots can be changed regularly to give the small space a different feel with every season. Fun and flexibility is the key to success.
Small space gardens are definitely not boring. In fact, I think they challenge us all to be more creative and more inspired, often boasting more elements of interest than a garden four times the size. Colour is definitely the starting point for success, followed by creating the illusion of depth. When these techniques are used together, and used wisely, they will achieve the desired result, which is to create an enticing private oasis. Who said bigger is better?
About the author: Dean Boone of Distinctive Gardens & Interiors is a Sydney based landscape designer and a presenter on the popular television program, The Garden Gurus.