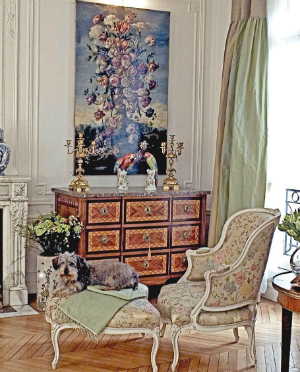 The story of Unique France is a deeply shared passion between two friends for art, history, craftsmanship and the things of beauty that French culture is so renowned for. The pair divide their time between Paris and Brisbane, with Denis Geoffray functioning as the principle buyer and liaison with European sources. In Brisbane, Gregoire d'Harcourt takes great delight in introducing both existing and new customers to the ever-changing collection, and will happily guide you on a tour through the showroom to retell the history of each piece.
Denis's earliest memory of antiques takes us to France and his grandmother's house. "I had a favourite spot under a Louis XVI game table which is still in our family today. I was fascinated by the marquetry work and the inlays, as if someone had drawn on wood. The fluted tapered legs made the whole table appear as a temple. It was my temple and in some way, while playing underneath, I felt special," recalls Denis. By 10, Denis had developed a passion for 18th-century cabinetmakers and learnt all their names, the different woods they used and the craftsmanship of gilding. Visiting his mother's friends became a new playground, where he could test his knowledge and meticulously turn over every piece of furniture in search of an estampille, the cabinetmaker's stamp. Denis's aunt, who was passionate about interior decorating, recognised a true passion in him and nurtured his interest by regularly taking him to museums and art exhibits. Denis's mother would often come home to a new interior as Denis and his aunt had spent the day moving around furniture and creating a new story and atmosphere. "What I like about antiques is the stories they tell: a specific wood or a specific shape tell you from which part of France a piece comes, which period and sometimes from whom it has been created.
By 14, Denis was attending auctions in Versailles, where he observed how the world of antiques worked as he soon understood that it had its own language. Driven by his passion, he rapidly grasped how to sell, buy and bid on a piece and decided then to become an auctioneer. Denis studied law for two years, which was compulsory along with art history, but soon realised that most of all, he wanted to directly deal with objects. By 21 he was France's youngest antiques dealer and opened his first brocante in Chartres on his mother's property — a very large 13th-century fortress on hectares of manicured land. Denis repaired the roof, chased away a large colony of pigeons which had lived in the tower for as long as he could remember, and opened his business. Running a brocante was his first studious step in becoming the antique dealer he is today. Gregoire acquired his first antique when he was just 11. His mother, who remained his biggest influence in developing a love of beautiful things and interiors, would take him on the weekends to brocantes and teach the art of chiner, hunting for unique antique pieces.
 Gregoire surrendered his pocket money and bought a 19th-century Regency-style silver crucifix as he was fascinated with the chiselled work. It then dawned on him that he could possess at home what he only saw in churches and become its lifetime guardian. When Gregoire's parents built the first modern solar home in Dreux, it became the stage to apply antiques in a contemporary interior. His mother would acquire a rare piece not just for its value, but for the association, and she would dedicate pieces to either Gregoire, his sister or her husband. Soon, in the large open living room, stood a Napoleon III grand piano for his sister, a First Empire-period double-sided desk for his father, and the walls were adorned with two large 18th-century Aubusson tapestries depicting a little boy reading in the forest for Gregoire. He moved to Paris in his late teens and studied art history, geo politics and linguistics. But Gregoire was thirsty for new horizons and in the late '80s travelled and lived in Australia, Asia and Fiji, where he discovered his passion for tribal art. During this period he met new people who left imprints of their influence. Some were a turning point, such as Massimo Murgia, the owner of Corso di Fiori, who had several showrooms around Australia overflowing with contemporary furniture, tribal art, French antiques and Italian ceramics. Gregoire's subsequent return to France was difficult and daunting but necessary, as he wanted to settle and start a career. He worked with Denis in his brocante in Chartres for four years, learnt the art of restoring furniture from carpenters, and from interior designers learnt to display antique stands at fairs. Gregoire longed to return to Australia, particularly in winter, and his dream took shape when he became Corso di Fiori's purchasing agent for French antiques.
In 2001, he moved back to Australia to reside permanently and was put in charge of the French department for the entire Corso di Fiori group. "My interior decorating style comes from these experiences of travel, mixing with the cultures and lifestyles," relates Gregoire. "With passion I help to develop people's attitudes into their decor by organising the composition of their objects and furniture in harmony with colours and materials, bringing different feelings to the different spaces." In 2002, Denis and Gregoire opened Unique France in a charming south of France-style boutique in Milton, and the rest, as they say, is history. And what is left for the future of Unique France? Gregoire and Denis intend to develop the interior design side of their business, introducing their clients to the art of decorating with the soul that only antiques can bring in a home, as well as the exclusive touch of floor marquetry and wall finishing through the hands of French artisans. Their new showroom unravels the perfect example of the elegant and unique "Frenchness" that can be achieved and nourished through a continuous skilled partnership and friendship.