Turning balconies into outdoor rooms is the latest trend for urban apartment dwellers.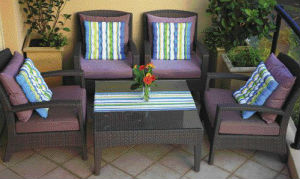 Any outdoor room needs to be flexible but when you are working with a balcony, flexibility isn't just desirable, it's essential.
The owners of this two-bedroom apartment in Sydney's Lower North Shore had high expectations for their balcony. "Yes, it had to be somewhere they could relax, entertain, dine and cook, but they were also looking to use the balcony as an extension of their indoor living area," says designer Tim Barnes of Balcony Garden Australia.
"The design I came up with was based on a concept of a retreat," he says. "The aim was to create a space that invited relaxation but could also be used as a more functional space for dining, barbecuing and entertaining friends and family."
Designing for a balcony means taking into account the size and scale of each of the elements that go in to it. It also means taking your design cues from the interior décor of the apartment and the architecture of the building.
"The size of the area was somewhat restrictive, so while the owners wanted furniture that was comfortable, practical and stylish, not to mention plants and lighting, we didn't want to overwhelm the space. Avoiding clutter and a cramped look was vital," says Tim.
"We overcame the space issue by selecting materials and furnishings that created a sense of openness. We also put a lot of consideration into the placement of the furniture, plants and pots in order to maximise the use of the space."
Although size matters, the owners haven't skimped on the lounge chairs. They are large enough to be luxurious but not so big that they dominate. As a focal point and for night-time ambience, there's a stunning custom-made Corten steel light box.
"The owners also wanted a kitchen garden but as space was limited, we installed a herb pot," adds Tim. "At the moment they are growing thyme, chives, coriander and parsley. All these herbs grow well in pots and fit in well with the balcony design concept."
In the capable hands of the installation team at Balcony Gardens Australia, a once featureless balcony has been transformed into an inviting outdoor room which is the owners' favourite place to be. "They just love it!" says Tim.
Photography Peter Brennan  
Balcony Gardens Australia
3/12-18 Tryon Road
Lindfield NSW 2070
Tel: (02) 9880 9399
Fax: (02) 9416 3099
Mobile: 0411 744 747
Email: tim@balconygardens.com.au
Website: www.balconygardens.com.au