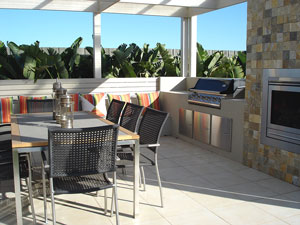 For those who like to entertain alfresco, the outdoor kitchen is a backyard essential
Story: Carrol Baker
It's no secret Aussies love eating in the great outdoors, but these days, instead of tossing a snag or two on the barbecue, many are effortlessly whipping up gourmet fare in their stylish outdoor kitchens.
Today's new-look kitchens raise the home alfresco dining experience to a new level. The comfy warm interior of the home spills over to the luxurious exterior with the inclusion of the outdoor kitchen. Designs can include gas or electric cooktops, rotisseries, barbecues, bench space for preparation and serving, functional built-in cupboards and drawers, rangehoods, teppanyaki grills, wood-fired ovens and fridges. In fact, at the upper end of the market, the outdoor kitchen comes complete with everything — including the kitchen sink.
Of course, the barbecue remains the hub of any outdoor cooking experience and considering how many of us like to dine alfresco, the elevation of the barbecue to star status is hardly very surprising. According to a survey by BeefEater Barbecues, 85 per cent of Australian families prefer eating outdoors rather than in, so it's little wonder the concept of the outdoor kitchen is becoming an integral part of many homes — and that the barbecue has become a very sophisticated piece of equipment.
Firing up the barbecue still remains a quintessential component of the outdoor kitchen. With sleek curves and cutting-edge design, modern barbecues have lots of visual appeal and they come in myriad styles — island or pedestal, stainless steel or powder-coated, built-in or wheel-in.
Many are equipped with all the mod cons — removable warming racks, roasting hoods with glass viewing windows, rotisseries, wok burners, towel racks and condiment shelves, multiple burners to cater for large family gatherings. Others can be enhanced with any number of optional extras.
Some barbecues are also equipped with innovative features such as a flame failure switch – if the wind blows out your flame the gas supply is immediately cut — a wise option if your barbecue is positioned in a high wind area. Modern designs can also include stainless-steel vaporisers that sit over the burner to help reduce fatty flair-ups.
These days, it seems you really are spoilt for choice when shopping for a barbecue. So how can you decide on a barbecue that is right for your needs?
"It depends on your entertaining needs, the optional cooking features you prefer, and your available outdoor space," says Darren Goble, Marketing Manager, BeefEater Barbecues. Darren recommends you ask yourself the following when choosing your barbecue. Are you planning large family parties or small intimate get-togethers? What sort of foods do you prefer to cook? How much preparation area do you need? Do you want the flexibility of a movable barbecue or would you prefer a permanent structure fitted into a benchtop?
You also need to consider how you will fuel your barbecue. Gas (bottled or natural) is fast, effective and a greener option than using timber or charcoal. Natural gas can also be more cost effective in the long term, says Darren, and as a bonus you'll never again have the hassle of running to a service station to fill a gas bottle while you're entertaining.
Deciding on the style of barbecue you want is just the beginning. According to Ric Piil, Director of Alfresco Kitchens in Western Australia, the new looks in outdoor kitchens are all about sophistication, style and functionality. "We're talking about stand-alone kitchens, not just an external part of the cooking area of the home," he says. "The outdoor kitchen is a second living space so we are seeing more under-bench ovens, dishwashers and extra storage with a second set of household utensils."
And according to Ric, when designing your kitchen the key to success is position, position, position. There should be easy access to internal facilities, such as bathrooms, and the outdoor kitchen should be orientated to maximise views and be close to other outdoor features, he says.
Next you need to look at space, functionality, and of course your budget. "Consider the most important design elements you want to include, look at your lifestyle and how much entertaining will you do," he says.
For those with young families, including a wood-fired pizza oven is a popular option. Or you can add a touch of the orient by adding a teppanyaki bar. A rotisserie that plugs into a power point can be a welcome addition if you plan to host large family gatherings.
Some state-of-the-art outdoor kitchens also include dishwashers, wine and beer chillers, extraction fans and even beer taps. Full-size fridges can be incorporated although bar fridges tend to be more popular. Often of stainless finish, some have glass doors so you can see when you're running low on bottles. Others include wine racks and adjustable wine chillers and have two compartments to allow for variable temperature settings.
Your outdoor kitchen should be made of easy-care, high-quality weather-resistant materials specifically designed for outdoor use, says Ric. Features can include soft-closing drawers, quality slide-out rack systems, stylish handles and adjustable legs for benches and cupboards.
Roomy cabinets and drawers are often finished in marine-grade stainless steel to withstand the elements. Contemporary design has also seen an emergence of durable, natural stone benchtops although engineered stone and synthetic materials like Corian are ideal for outdoor areas. Some homeowners are even opting to have their outdoor kitchen benches rendered and painted to match the external walls of the house.
Outdoor lighting is an important element in your design. The chef needs adequate lighting over cooking and food preparation areas, with soft, subtle lighting for areas where guests will mingle.
And don't forget a place to dine. Outdoor kitchens typically go hand-in-hand with an outdoor dining area, often an outdoor lounge area, too. If going the custom designed route, you can even have your dining table made of the same material as your benchtops to tie everything together. The idea is to exercise the same care in designing, furnishing and equipping your outdoor kitchen as you would the main kitchen inside the house. That way you will have many years or enjoyment from what is, after all, a significant investment of your time and money.