Ikal Kitchens match quality with class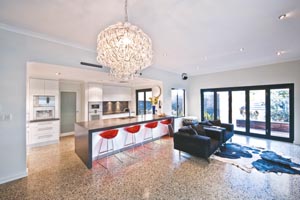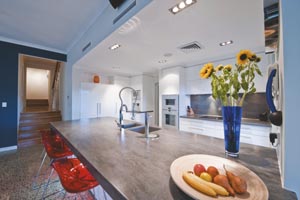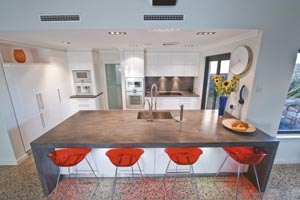 Smooth, glossy white surfaces, cleverly integrated appliances and subtle downlights that highlight the sheen of the quality Corian worktops — no detail has been missed in creating this luxury kitchen. The LED lighting under the kitchen island benchtop is another practical feature that creates a feeling of warmth and welcome.
A raft of appliances have been smoothly recessed and integrated into the kitchen to give an uncluttered look. The coffee machine guarantees that the homeowners will have a latté or espresso at their fingertips whenever they need a caffeine fix. A steam oven, microwave and grill, oven, cooktop, dishwasher, integrated refrigerator and freezer have also been effortlessly incorporated into the available space. The quality and range of appliances and the fixtures and fittings in this generously proportioned space have created a chef's paradise that is bound to be at the centre of any family gathering or special occasion.
The classic colour scheme of white-gloss cabinet doors and panels with pencil-round edges, brushed aluminium kickboards, and Corian solid-surface Lava Rock benchtops with coved splashbacks come together to build a clean but not clinical atmosphere.
Other special and individual touches in the kitchen/laundry area include an integrated fridge and wine cellar in the laundry — handy for effortless entertaining at any time of the year. The laundry also won the 2009 HIA Kitchens & Bathrooms Laundry of the year project.
Another key feature of the area is the fireplace — an appealing visual addition but also a practical one, with hidden storage space behind its panels.
The owners have added a touch of glamour and warmth, with ultra-modern deep-red bar stools casually placed around the island benchtop for when it's time to enjoy that freshly brewed cup of coffee.
DOORS Plain white gloss lacquer with pencil-round edges
PANELS As doors
HANDLES Lincoln Sentry 'Rogue' stainless steel to base cupboards and push catch to overheads in kitchen
BENCHTOP with coved splashback in Corian solid surface 'Lava Rock' from the Organics range
KICKBOARDS Brushed aluminium laminate
FLOOR Polished concrete
APPLIANCES include a Gaggenau oven, cooktop, dishwasher, coffee machine, steam oven and microwave/grill, Qasair Executive Range rangehood/canopy, Liebherr integrated refrigerator and freezer, Oliveri sink and Forma sink mixer with separate spray handpiece in kitchen, Liebherr bar fridge and wine cellar, Oliveri sink, Miele washer and dryer stack and Konvex Spring kitchen mixer with pull-out spray in laundry
COST for kitchen, laundry and lounge room cabinetry approximately, for design, manufacture, installation, $97,800
Stephen Nicholls Photography