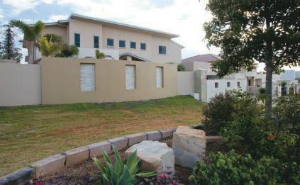 A vibrant mural forms the centrepiece of a classic contemporary garden design.
Story: Karen Booth
Photos: David Rosendale
In a rather inspired display of 'garden graffiti', a vividly coloured, hand-painted mural claims centrestage in what is otherwise a garden of understated elegance.
Quite the surprise package, this Melbourne backyard is a breathtaking mix of contradictions. The mural, a swirling 'psychedelic' riot of pink and orange, looks like it would be right at home in an art gallery — circa 1970. The rusted corrugated wall panels could as easily be found in a country garden as in an industrial warehouse conversion, and the remainder of the garden, well, classic-contemporary probably bests sums it up.
A true original, the garden is the creation of Adrian Flowerday of Flowers Landscapes. Quite rightly, he is especially proud of the head-turning mural.
"We constructed the wall to act as a blank canvas for the mural then attached large rusted-iron panels at either end giving it a more industrial look," explains Adrian.
"In this period, when most street art and street artists get negative publicity, it is good to show that it can be used in such striking forms. I think it's a clever example of melding contemporary styles with classic tones — and this is just the tip of the design possibilities available by bringing art into our outside living areas."
This garden shows that having a young family need not be at odds with having a 'designer' garden. There are places for the children to play and explore, and the alfresco dining area is as suited to casual family lunches as it is more formal entertaining.
The large north-facing timber deck is the main entertaining area. This is a very simple space where care has been taken to allow the mural to remain the uncontested centrepiece of the design. The brown tones of the timber decking boards blend with the earthy hues of the home's brick façade, so as not to draw the eye from the mural.
For relaxation there is a four-metre-long daybed. Built-in daybeds are quickly becoming a design essential as more and more of us look to our backyards to provide us with not just a place to play or entertain, but with a place of retreat.
As you leave the deck and head further towards the back of the yard, interest, texture and a sense of increased depth is contributed by a staggered stack-stone retaining wall which doubles as a raised planter. In one corner sits a large urn of classic design. Although seemingly incongruous when viewed in relation to the funky wall art and corrugated iron feature panels, it somehow contributes to a harmonious whole.
To complement the wall treatment, the paving is of massive 1800mm x 900mm hammer cut granite slabs and exposed aggregate.
"Yucca heads planted en mass beneath the mural give a striking visual effect, especially at night when their foliage reflects onto the wall, adding another visual dimension, while six-foot yucca trunks and five huge agaves, planted beneath the large, open windows, contribute architectural foliage structure," says Adrian.
Other species include Magnolia 'Little Gem', underplanted with Liriope muscari (lily turf), to screen the rear boundary, an Acer palmatum (Japanese maple) for vibrant spring colour and Ophiopogon japonicus (mondo grass) to soften a long, narrow run of rectangular stepping stones.
All in all, this garden represents a skilful blending of contemporary art with classic garden design elements.