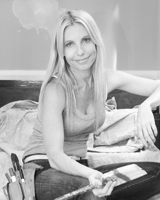 Cherie Barber
Cherie Barber, creator of the Renovating For Profit course, is Australia's leading renovation expert.
With over 21 years of profitable renovations under her belt, Cherie Barber practices what she preaches. The secret of her success is a proven, step-by-step approach, personally developed on over 50 of her own renovation projects.
Cherie's process covers everything – from when and where to buy, how much it is advisable to pay for a property and, most importantly, how to renovate your property most effectively to sell or rent it for the highest price possible!
Dubbed by the media as 'Australia's Renovation Queen', she has appeared on countless Aussie television programs and publications, including Network Ten's popular, prime time lifestyle program, 'The Living Room', and America's HGTV is Cherie's premier US series, 'Five Day Flip'.
A renowned expert in the field, Cherie Barber has written a range of renovation advice articles for Complete Home, covering a range of topics including:
ARTICLES BY Cherie Barber
Loading Content ...