The family kitchen is a place where safety is paramount so we asked the experts at Zip Industries to give us some tips and advice on ensuring your kitchen is child safe.
Sponsored by Zip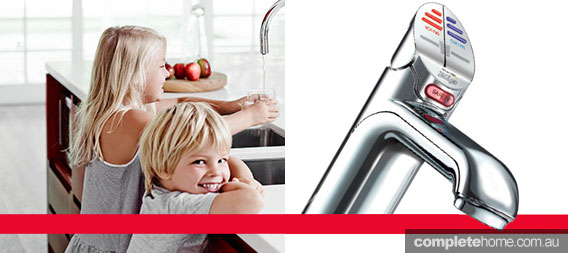 Hot water
Burns are one of the most common injuries in the kitchen and bathroom, particularly as children grow taller and can reach taps, pots and pans. Look for appliances that have safety catches and/or water temperature limiters. The intelligent Zip HydroTap has a safety switch to ensure the hot water can never be accidentally turned on while the clever G4 Command Centre allows you to pre-set the maximum hot water temperature for additional safety. It's also vital to teach your children to be safe around hot water and monitor them when they are cooking or cleaning.
Safety gates and latches
One of the best ways to keep children safe in the kitchen is to keep them out. When dealing with complicated meals or cleaning, especially when it involves hots or sharps, it's best to keep the children out. Installing safety gates on any doorways into the area is a simple solution, and means children can still see mum or dad at work.
When the kids make it into the kitchen, securing cupboards at their height with latches should be a priority. It'll keep them from getting into anything breakable and hurting themselves. Installing a latch on the fridge and oven is also preferred.
Keeping dangerous items out of reach
As general practice, always keep knives, plastic bags, medicine, cleaning agents, alcohol, spices and sharp dispensers out of reach or behind locked doors.  As children become old enough to take an interest in cooking or helping in the kitchen, start with simple tasks such as stirring, sifting or taste-testing and always monitor them carefully once they start chopping, slicing or dicing.
Plugs, cords and appliances
Dangling cords are a danger in a kitchen where it might mean a kettle of hot water can be pulled off a bench. Excess cords should be wrapped and secured with a twist tie and appliances should be unplugged when not in use with a safety plug inserted into the socket. Even better, do away with kettles all together with an instant hot water tap such as the Zip HydroTap. Compact in design, with no loose cords to be grabbed, it's a great space saver as well.
Lead by example
The most important thing when working or playing with your kids in the kitchen is to lead by example. Never try to get something out of an appliance, such as a toaster, without unplugging it first. Ensure you show your children good safety practices in the kitchen from a young age and one day hopefully they'll be cooking you dinner.
For more information check out the Zip Industries website
Written by Lauren Farquhar