Designed for the way the modern family likes to live, this contemporary custom-built duplex ticks all the boxes
For an increasing number of families, building a duplex is both a lifestyle choice and a canny investment. This modern duplex, designed by Damour Design and built by Oscar George Projects, is located in Northmead, a suburb in Sydney's west, and is an inspiring example of what can be achieved when you place yourself in the hands of a skilled custom builder.
"Our clients appreciate the good use of space. Typically, this means ample storage throughout the home, rooms full of natural light and, of course, multifunctional, family-friendly living spaces," says Charlie Abdul Ahad, director of Oscar George Projects.
"This duplex project is a perfect example of how best to let natural light flow through a dwelling. Here we achieved that through the creation of a gorgeous void in each living room. Additionally, there is storage in every room of each home, from the garage to the bedrooms and study nook on the top floor. Also, the open-plan living, dining and kitchen area opens up onto an alfresco dining and pool area, making it a great entertaining space when needed." The clients are a couple who work full-time and travel quite often so they wanted a home that would be as low maintenance as possible. To achieve this, Oscar George Projects took great care with the selection of materials and finishes, extending to the installation of easy-care Astro Turf in the backyard so the outdoor entertaining space would look pristine all year round.
As a custom builder, the company is adept at tailoring homes to meet clients' individual needs and keeping abreast of the latest trends, which includes material selection and styling. "With styling trends it all comes down to budget and personal taste. Many of our clients enjoy a clean, sophisticated approach to styling which can be seen in this duplex, most notably in the kitchen with its marble benchtops and built-in bar," says Charlie.
EXPERT TIP: If you're thinking of building a duplex, seek the services of an experienced custom builder who can tailor the project to meet your needs and work with the site.
However, a lot more clients are becoming conscious of the environment so we are seeing a lot more exposed brick walls, energy-saving skylights and the use of recycled materials. In turn, this is leading to style choices that reflect a conscious build — earthy tones, indoor greenery, consciously produced furnishings, Australian-designed and -made pieces. We are definitely seeing movement in conscious styling trends."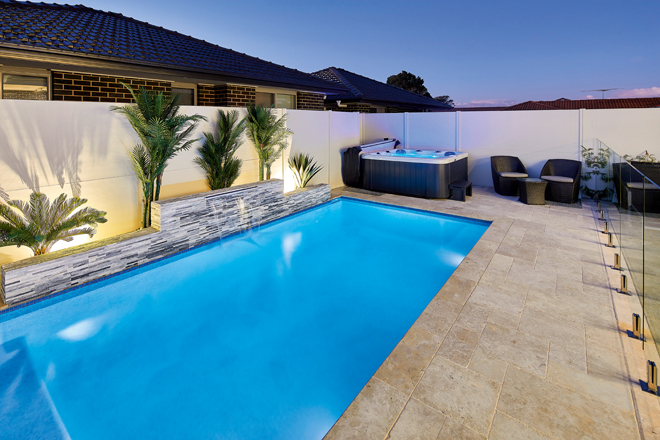 Drawing on his many years of experience, Charlie is able to guide clients through every stage of the design and build and, in doing so, debunk some of the myths surrounding the home-building process. "Many people think that building a home will cost the earth," he says. "In some cases there are unforeseen circumstances which can lead to delays and unexpected costs; however, with careful planning, a clear budget goal and an experienced builder, these issues are either less likely to occur or can be managed quickly.
"My best advice is to consider your budget and needs and then build on that. Get advice from a few different builders and visit as many display homes as possible to see what would work best for you. Social media is helpful for inspiration but sometimes too many design or style options can prove daunting when it comes to making a decision — we can help you with that, ensuring you get the precise result you want."
The facts
Location of home: 115 Hammers Road,
Northmead NSW 2152
Time taken to build: 12 months
Year completed: 2018
The figures
Size of each unit: 750sqm
Size of land: 920sqm
Bedrooms (each unit): 5
Bathrooms (each unit): 4
Floors: 3
For more information: Oscar George Projects