A place for everything and everything in its place … this is the path to a clutter-free garden.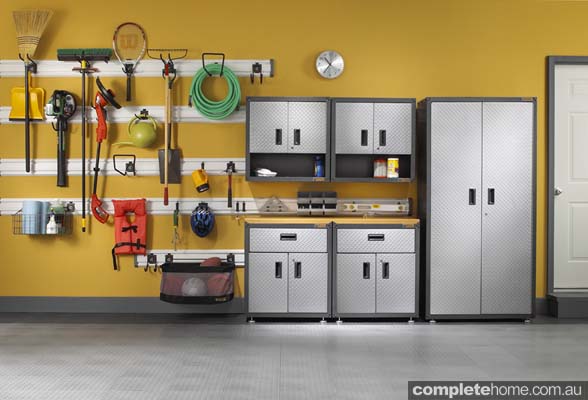 There's no point investing in a stylish new garden if it's going to be littered with homeless rakes, plant pots, bikes and the like. Clutter is the enemy of good design. So just like inside your home, you need somewhere to store all these items out of sight until they're needed. And, of course, there are those items that have to be stored safely — the pool chemicals and garden fertilisers, the secateurs and saws — so storage should be top of your list when planning a new garden or embarking on a makeover.
Storage specialists
If you're going to build a new swimming pool, you need to ask where the pool toys and chemicals will be stored? If planning a new outdoor entertaining area, where will you keep your outdoor cushions in the off-season or those fold-up chairs you like to keep on hand should extra guests turn up?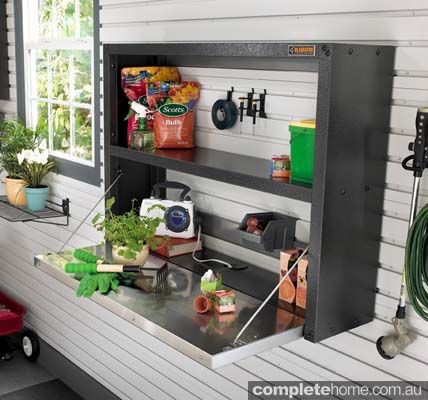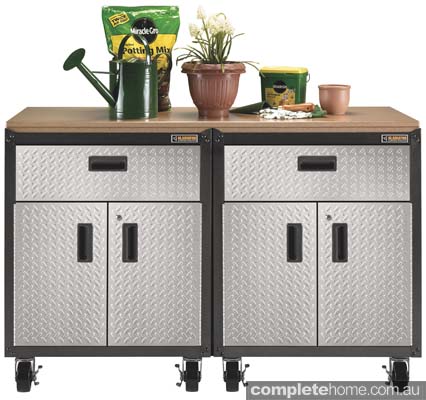 Do you have a place to store your whipper snipper, wheelbarrow and hoses? And if you're a keen gardener, do you have somewhere to keep your pots, soil, seed packets, tools, plant labels and gloves, not to mention a place to pot up. Whether your storage space will be your garage, shed or the laundry, the key to success is to call on the storage solution specialists, Gladiator Garageworks.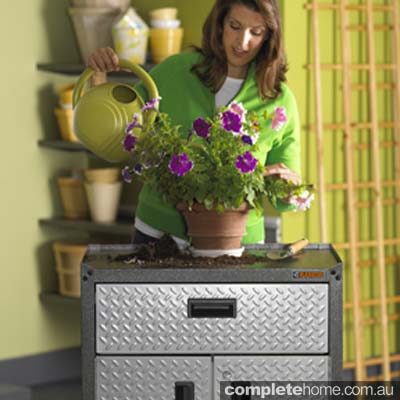 Your options
Although products can be used in sheds or other storage areas, Gladiator Garageworks is the only product range designed with the garage in mind. The range of cabinets, shelving systems, baskets and hooks is a complete system that offers a choice of full or partial wall coverage to suit any garage of any size and type.
Gladiator Garageworks products are modular and their wall track system allows you to easily re-arrange or add cabinets and components as your needs change. Your Gladiator Garageworks system can grow as you and your family grows and their optional containers and baskets let you bring your tools to you as you work.
Made to last
Coordinated to create a uniform look in your garage, Gladiator Garageworks' steel units are rugged, stylish and easy to clean. They also feature the company's signature sleek Tread Plate design and a durable powder-coat finish with oversized casters and piano hinges. What this means is that Gladiator Garageworks' systems are built to last — and they are backed by the Whirlpool name and warranties.
Each gear track, hook, basket and cabinet is rigorously tested. Details of the testing are available — for example, hooks, cabinets and wall systems are tested at their rated load at -30F (-34.44C) and 150F (65.5C), and four times their rated weight at 0F (-17.77C) and 120F (49C) — but the bottom line is that these systems are built of heavy duty materials that can take the weight.
Easy installation
Products are designed to be easy to install and depending on the scope of your project, it will only take from a few hours to maybe a day to have all your units in place and your tools, toys and everything else neatly hanging on hooks, sitting in shelves, or tucked neatly away inside cabinet drawers.
Each product comes with a clear set of instructions which can also be found on the Gladiator website. The easy-to-navigate website also features a series of makeover videos where you can see how real Australian families have transformed their garages and banished clutter from their homes and gardens.
Stockists and installers
Gladiator Garageworks products are available from Masters Home Improvement stores around the country as well as selected hardware stores and outlets specialising in storage solutions. To find details or your nearest stockist, simply visit Gladiator's Australian website. The website also provides a list of recommended installers for those who prefer not to go down the DIY route. You also have the option of buying online with delivery available Australia-wide. And if you have any questions, you can call or email Gladiator Garageworks and be assured of receiving a prompt response to your enquiry.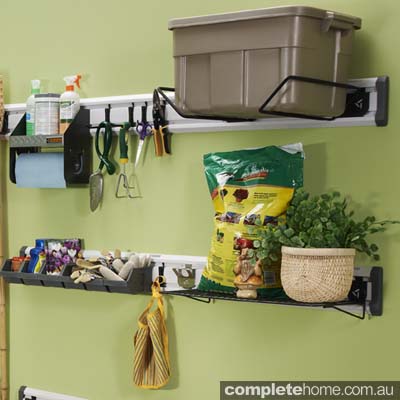 The benefits
Reclaim space: Reclaim space in your home, your living areas, your garden, your deck and in your garage. Gladiator Garageworks can help liberate those cluttered areas in and around your home that never seem to stay tidy by better utilising the space in your garage.
Save time: No more weekend clean-athons only to have stuff spilling out on the floor again by Tuesday. No more rummaging through cupboards or under the deck looking for things. Gladiator Garageworks is an up-off-the-ground solution to the problem of "too much stuff" and "too little space".
FOR MORE INFORMATION
Gladiator Garageworks
Phone 1800 452 342
Website gladiatorgw.com.au
Originally from Backyard and Garden Design Ideas magazine, Volume 12.1