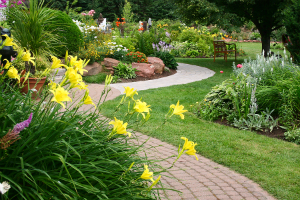 Victorian designers offer a fresh new perspective on traditional landscape design
Story: Karen Booth
Photos: Patrick Redmond
Take the works of Shakespeare and a brave band of landscape designers and what do you get? The answer is Garden as Art, a thought-provoking installation conceived by the Landscape Industries Association of Victoria (LIAV).
Keen to really shake things up at this year's Melbourne International Flower and Garden Show, LIAV assembled a group of eight landscape designers and gave each a task: to create a garden display that would explore the very special connection between art and nature. But there was an extra twist: they had to interpret this connection through Shakespearean eyes.
Unlike many of the other display gardens at the show, these Shakespeare-inspired designs were not crafted with the average home garden in mind. However, just as controversial catwalk haute couture often sets the trend for more wearable fashion, who is to say that some of the unusual garden design ideas posed in Garden as Art might not find their way into landscapes of the future? Albeit, somewhat toned down, of course.
Drought Stories by Wendy Clarke, one of the most talked-about displays, is a case in point. Based on the theme "Now is the winter of our discontent", the display explored the savage affect of the current drought on those in country locales. While an animal skull might not be what you'd like to see in your own backyard, the use of quintessentially Australian materials such as corrugated iron and the inventive use of recycled materials provide inspiration for those seeking to give their own gardens a more informal or rustic look.
Other displays, such as James Dawson's Bill's Pillars, had something to offer those contemplating the design of large-scale public spaces. Yet others were more along the line of art for art's sake — or simply designed to inject a little fun into the proceedings.
The eight participating designers, all members of LIAV, were: Wendy Clarke, Dirtscape Dreaming; Doug Lord, Yellowstone Landscaping; Richard Bellemo, Richard Bellemo Inspirational Gardens; James Dawson, James Dawson Landscape Designs; Stuart Beekmeyer, Fat Elvis Design; Grant Saltmarsh, Earth Art Landscapes; Daniel Tyrrell, Daniel Tyrell Landscapes; and Scott Wynd, TLC Total Landscape & Construction.
Here we show you just five of the garden displays to give you a taste of what visitors to the 2007 Melbourne International Flower and Garden Show were able to experience.