The best tips for working with garden plant heights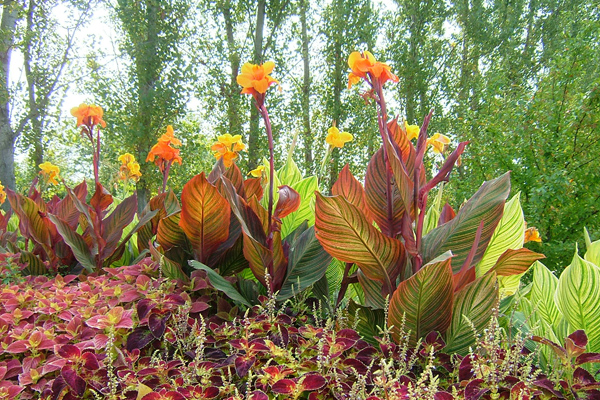 Text book planting that looks fantastic with coleus at the front, cannas in the middle and the trees in the background.
All plants grow to different heights, as is clear from the different plant categories like trees, shrubs and ground covers. Unfortunately, it can be easy to not consider how tall a newly purchased plant will grow and not plan accordingly.
To help you, we present two tips for working with plant heights:
ŸTip one: Don't be misled by the size of the plant you see at the garden center, as most of the time these are babies (especially if they are seedlings) and they may have the potential to grow surprisingly tall. Take Canna Tropicanna for example. It might only be a foot high in its pot, but once settled into your garden bed, it'll shoot up to between four and six feet high. Avoid any future complications by checking the label!
ŸTip two: Think about where you're doing the planting and how it will look from every angle. For example, if have a garden bed running alongside the sidewalk you'd probably plant the smallest plants facing the street with the tallest at the back. That's fine for your neighbours and other passers-by but when you're looking out across your front lawn towards the street, you'll be looking at just the tall plants and not the hidden short plants.
The solution is easy: tall things to the middle of a bed and others set in layers out towards the edges. A circular garden bed in a lawn in a classic example where the tallest plants or specimen tree is at its center and the other plantings fall like a skirt from the center to the lawn's edge right the way around.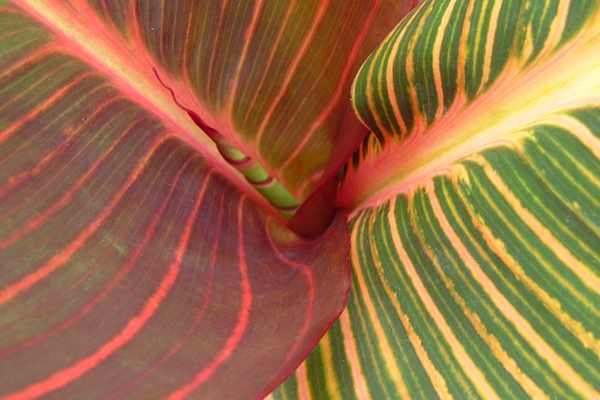 Even when they're not in flower, the stripes of canna Tropicanna and Tropicanna Gold are mesmerising.
For more information
Anthony Tesselaar Plants
Website: www.tesselaar.com