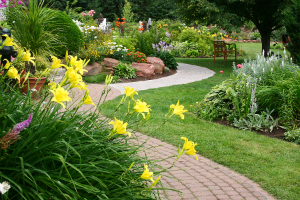 This Sydney garden combines a traditional Japanese aesthetic with modern functionality
Story: Staff writer
Photos: Marian Riabic
Daryl Wilkinson is passionate about the art and culture of Japan. He has always yearned to live in a Japanese garden so, when the opportunity arose to develop a new garden, he chose to do it in a Japanese style.
Before the garden was redeveloped with a Japanese theme, it was an ordinary suburban front yard. It lacked privacy and character and was really little more than a patch of lawn with an edging of plants. The front garden, which is north-facing and takes up a large part of the block, was open to passers-by and wasn't a comfortable space in which to sit or spend time.
A simple reed screen transformed the space from public to private, while clever plantings, well-positioned stepping stones and a makeover of the façade of the 1950s-style house gave Daryl his yearned-for Japanese look.
The screen that breaks the view from the street to the front door looks simple, but its placement is critical to the success of the garden. The screen consists of two cedar posts with double-sided reed and half bamboo sides topped with a miniature Japanese cedar roof.
Behind the screen is a traditional Japanese courtyard garden with feature rocks, a Japanese stone lantern and a covered seat. The Japanese seat is a traditional waiting bench or koshi-kake-machia. It's the place to sit in complete privacy to enjoy a cup of tea and a special view of the garden.
"The screen has transformed the way I can use and enjoy my outdoor space," explains Daryl. "I often sit out here and I feel I can leave my front door open without being on view to the street."
A semi-mature Japanese maple is a feature of the courtyard. The maple mirrors the changing of the seasons with new spring growth, dense foliage in summer and bright orange and red tones in autumn. In winter, the tree is bare, allowing sun to stream through. It overhangs mossy sandstone rocks, a hand-carved lantern and a water bowl. The lantern is wired for subdued night lighting.
Although the rocks appear as if they've been casually scattered here and there, each has been carefully and deliberately placed. There is half a tonne of sandstone rock in the garden. The larger pieces were moved into position using a bobcat.
The rest of the front garden is still open to the street, but the area has been sculpted into mounds and planted to make a more interesting and inspiring space. It features advanced trees, including magnolias and Chinese tallow (Sapium sebiferum), set off by a soft green lawn. A rustic granite pathway sets the courtyard apart from the front yard.
Although Japanese gardens can be created with plants from around the world, this garden is planted almost entirely with plants that hail originally from Japan or South-east Asia, including may (Spiraea japonica), camellias, azaleas, Indian hawthorn (Rhaphiolepis indica), mahonia, Japanese sacred bamboo, Japanese box and mondo grass. An undercover planting of baby's tears (Soleirolia soleirolii) creates a lush, green base for the garden.
The plants are all tough, low-maintenance choices that can be trimmed occasionally to maintain the structure of a Japanese garden. Daryl says it satisfies his desire for a Japanese garden and his need to be able to spend time outdoors
Read all about it!
Living with Japanese Gardens by Chadine Flood Gong & Lisa Parramore (published by Gibbs Smith, distributed by Bookwise International), shows the reader how to integrate an authentic Japanese aesthetic into any landscape plan. Japanese gardens affirm our connection with the natural world, which can be clearly seen in the artistry involved in placing plants, rocks and water with the viewer's perspective in mind. The authors show how anyone can create a beautiful Japanese garden, whether they have a flat suburban lot, a small balcony, a rolling hillside or a few small pots. Chapters cover these topics and more, including how to create a reflecting pool and how to design a low-maintenance Japanese courtyard garden.