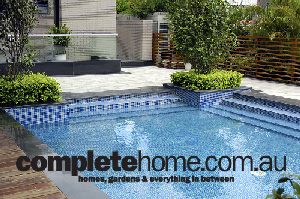 An amazing glass-walled pool capturing breathtaking views of the Queensland coast
The owners of this stunning hilltop property in Queensland wanted a new pool and surrounds that would transform the lower part of their garden into the ultimate outdoor entertaining area, take full advantage of the property's uninterrupted coastal views, and provide a pleasing outlook when viewed from inside their home.
The design team from Majestic Pools and Landscapes, headed by Andrew Jakovac, has ticked each of these boxes and more, far exceeding the owners' already high expectations.
The owners were happy to leave the design and construction to Majestic. As long as it complemented the existing established gardens and enhanced the remarkable views, they were content to leave the pool project in Majestic's experienced hands.
The formal-style pool is of a simple, angular shape. Set into the coping is an unusual curved glass edge, which has become the key feature and focal point of the pool.
A structural beam supports the pool. This was used to overcome some of the challenges raised by the topography of the site and the position of the pool. Restricted access also posed a problem, which was simply overcome by close liaison with the owners and keeping the lines of communication open between Majestic and the neighbours.
Himalayan quartz tiles were used for the pool surrounds and coping. Perfectly laid in a simple yet semi-formal pattern, they lend a feeling of warmth and sophistication to the pool area but are unobtrusive enough to allow the eye to focus on the uniquely shaped pool and spectacular view. A combination of glass and aluminium fencing was used to continue the pleasing aesthetics while maintaining the pool safety requirements and ensuring unobstructed sight lines from the house.
Subtle underwater and garden lighting combine to illuminate the pool area in the twilight hours, offsetting the twinkling lights that glitter on the horizon and ensuring that a dip in the pool is a pleasing prospect, day or night.
Majestic Pools and Landscapes is dedicated to ensuring its pools work as part of an overall plan for the home, as was the case here. By always being prepared to go that extra mile, they are able to create something unique that will stand the test of time and it's an approach that has won them multiple awards. The most recent accolade received by Majestic was Pool Builder of the Year in the 2008 Queensland SPASA Awards. For more information visit www.majesticpools.com.au