When style and standout features combine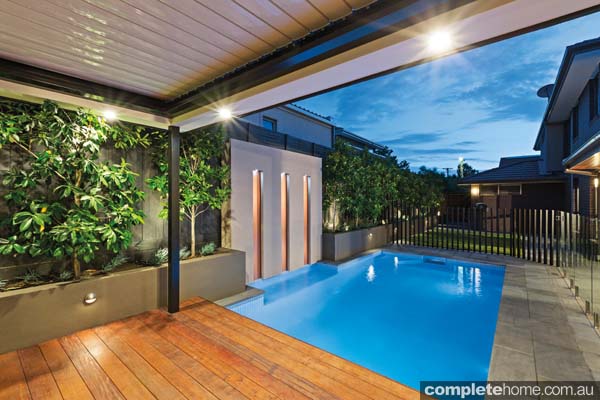 With numerous standout features and an impeccable finish, this pool is remarkably memorable for all the right reasons. Integrated Pools has designed and built a modern family oasis which will impress for decades to come.
Positioned among a stylish outdoor dining area and lush green lawn, this pool is the perfect addition to its contemporary setting. In accordance with the pool owner's requests, Integrated Pools has gone beyond creating a space to swim and has instead developed an enjoyable lifestyle for the clients, together with Rising Sun Landscaping, responsible for the breathtaking construction and design of the landscape.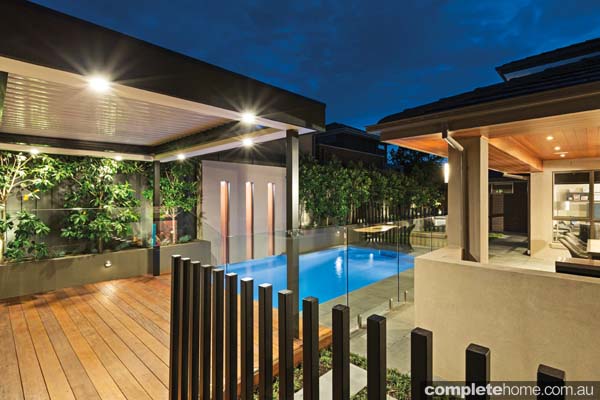 Integrated Pools has used ceramic tiles from Amalfi Mosaics in Sea Slate to create the pool's visually appealing colour, while the surrounding bluestone pavers help blend the different areas to create a uniform space. Featuring a plethora of standout elements, perhaps the most unique is the underwater window. The glass window looks out from an underground wine cellar in the pool house, using space economically while adding flair and individuality to the pool's overall design.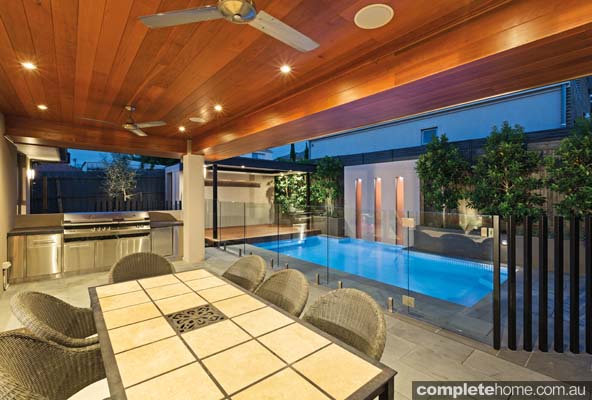 To make the most of the space and the opportunities for creativity it presents, Integrated Pools has also incorporated a stunning water feature into the design. Lined with copper and containing three downlights, the feature stands tall on the wall adjoining the pool and is visible from the outdoor dining area, presenting itself as a spectacular piece of contemporary design visible from myriad angles.
The epitome of versatility, this pool offers the opportunity for family play while doubling as a lap pool, with the addition of a Remco swim jet. The pool is also not limited to warmer weather as Integrated Pools installed a solar heating system on the roof. This means the pool can now be used on cooler days and at night. With LED multi-coloured lights, the pool glimmers at all hours and a variable-speed eight-star energy-efficient pump has been installed to reduce environmental effects.
Every element of this outdoor space comes together to create a show-stopping sight, the pool and its list of dazzling features completing what's set to be a picture of modern perfection for years to come.
Damian Canny started the Canny Group more than 20 years ago, building custom homes and doing renovations. The business has since extended into swimming pools, commercial projects, architectural practice and building pre-designed homes. Constructing around 60 pools across Melbourne each year, Integrated Pools specialises in concrete pools and is a member of SPASA.
At a glance
Heating: Gas-boosted heater and solar system
Cleaning: No inbuilt cleaning systems as the pool has a robot
Filtration: Glass media
Coping: Bluestone
Tiles: Ceramic tiles from Amalfi Mosaics in Sea Slate
Pavers: Bluestone
Landscaping: Rising Sun Landscaping
Lighting: Two LED multi-coloured lights inside the pool and lighting in the water feature
Fence: Combination of glass and half black matchstick
For more information
Integrated Pools — A division of Canny Group
9a Hall Street, Hawthorn East Vic 3123
03 8532 4444
Originally from Poolside Showcase magazine, Volume 22