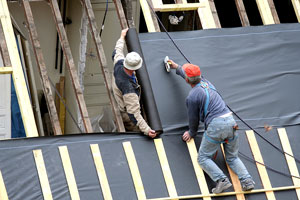 Not only does super smart house consultancy Ingenious work on some of the most cutting-edge houses around, but more than half its work is 'remedial' — that's renovation to the rest of us. So we asked Ingenious team iconoclast Alan Lawson to give us an insight into what are the current must-haves among their extensive range of clients
Ladies, I have to take issue with you. Apparently men become the primary home-improvement project for women when commitment strikes, according to Dr Pepper Schwartz, a sociology professor at the University of Washington.
She says women often marry men for their potential, with sights set on improving, perfecting and remodelling them when it comes to perceived flaws and shortcomings. How many times have you heard "Once we're together, things will be different"?
According to Schwartz, most men don't want to be fixed up — although many don't mind a bit of tailoring and alterations when it comes to their dress style: "It depends on proportion. Help is nice, while derision for his choice of clothes, friends or purchases is going to make him mad and rebellious."
I think I can apply this theory to house renovations as well. In our experience at Ingenious we often have to take the role of relationship counsellor before we even get onto the design requirements of our clients.
So beware, dear readers, one man's renovation is another woman's new house!
Anyway, our friends at Renovate & Extend have asked us to highlight the must-have renovations from our experience over the length and breadth of Australia. So here are our suggestions for areas to put on your list for the first session with your counsellor.
Smart access
First of all, think about how you get into the house. Control of the Ingenious houses on Noosa Hill starts at the front gate, where guests are greeted with a stainless-steel keypad and dual-intercom system. Convenient access to this four-level house and atelier is by the Nidac keyless-entry system which allows you to throw away that big bunch of keys wearing a hole in your pocket, handbag or sock when you go jogging on Noosa Main beach.
Also, you can forget about that panic as you leave the house and can't find the keys you always leave in the same place as you realise how late you're going to be for your next appointment.
In fact, Ingenious can provide you with a number of new ways to enter your home — PINs on keypads, mobiles or PDAs; biometric recognition; contact-less smart cards — plus you can also have the ability to remotely view and control the home, open the front door via your phone to let someone in and also keep an eye on your home via the PC on your desk at work or wherever you are on the planet.
In the Ingenious house the main house and atelier are separated by a large entertaining courtyard. A Legrand video intercom system operates throughout the property allowing owners to see who is at the front gate and/or open the front gate via any number of video screens placed in numerous rooms in both the main house and the atelier.
Smart lighting
Think about programmable lighting as part of the total renovation design, not an afterthought. Control over your lighting will:
* Bring out the best in your home: highlight features, spotlight art, colour and décor, define space
* Reveal your personality
* Adjust the appearance of your home and entryways; coordinate interior and exterior lighting to create the perfect balance
* Create lighting scenes for common activities, all at the touch of a button
* Give you global controls: welcome you home as you arrive, turn lights on, disarm the security system and switch on climate control. Have the house come to life with one simple button push.
Consider the following points for your lighting plan:
* Light directed upwards is more interesting than light pointed down — especially when used to highlight interesting plants, trees and shapes
* Lighting should be used to create drama and interest, not to floodlight. Your garden is not a rugby stadium
* Feature lighting: for example, water features take on more drama at night when well lit
* Avoid lights that draw attention to them. If possible they should be all but invisible. It's the effect of the light and shadow that's important, not the light in itself
* Use side lighting to create shadows and dimension; front-on lighting makes everything look flat
* Lighting steps with downlights under the treads is a good safety measure and can help to create a sculptural play of light and shadow.
* Security: enjoy greater peace of mind. Integrate lighting and security to ensure your families protection. When away from home, create the illusion that you're still there using timed lighting events. Automatically turn interior and exterior lights to full when the alarm is triggered. Link security devices to external monitoring services for added protection. Don't forget, security lighting should operate separately from landscape lighting
* Save money by saving energy. Ensure lights don't burn unnecessarily, extend the life of expensive and hard-to-reach bulbs, automatically water your garden at preselected times, run heating and air-conditioning more efficiently
* Motion detectors for small rooms: powder rooms, pantry, robes, laundry, sheds, garage etc
Smart audio
Sonos is the first wireless, multi-room digital music system that lets you play all your digital music, all over your house, and control it all from the palm of your hand.
Sonos liberates the music that's stored on your home network so you can listen to it in any room in your house, from the bedroom to the backyard. With the wireless full-colour Sonos controller in hand, you'll have instant access to all your digital music, plus internet radio, subscriptions to online audio services and even music from your favourite CD or your MP3 player.
And, with Sonos™ ZonePlayers in the rooms of your choice, you can play the same song in different rooms, or different songs in different rooms. To start listening, just grab your controller and simply pick a room, pick a song and hit Play.
Smart laundry
We all know the heartbreak of having to discard a much-loved garment. Now there's a quicker, easier solution if clothes look tired or worn. A quick 'freshen up' with Whirlpool's Prêt-à-porter can revamp your favourite item and save huge amounts of money that would otherwise be spent at the dry cleaner.
Realising the need for a service that gently freshens up clothes without taking up too much time, Whirlpool has launched Prêt-à-porter, the revolution in clothing care and the perfect accessory for any busy household. Prêt-à-porter is a unique product that uses the natural power of steam to gently revitalise clothes in minutes, refreshing them and removing creases, wrinkles and odours which in turn decreases the frequency of dry cleaning.
The complete Whirlpool Family Studio is a multi-functional space that combines high-tech clothing care such as the ImPress Ironing Station, SinkSpa Jetted Sink, DryAire Drying Cabinet, Duet Fabric Care System and Personal Valet Clothes Revitalizing System. Whirlpool's website says, "The Personal Valet® Clothes Vitalizing System reduces your trips to the dry cleaner and limits the amount of time spent ironing.
Laundry rooms owners will also welcome Siemens' new professional EUR 1199 (USD 1499) shirt-ironing appliance dubbed the Dressman, an appliance that elevates domestic ironing to industrial levels with the tagline, "Its results even amaze professional launderers." In Germany, Siemens sold about 4000 units within a few months after its introduction in March 2004.

Smart outdoors
Ingenious is part of the ODC, a design group made up of experts recognised as the best in their field. The collective is a structure that allows these companies to work together, when required, on client projects or obtain best-practice advice on related areas outside the individual's area of expertise. This allows individual members to give best advice to clients in a more holistic and integrated way.
Ingenious thinks outdoor lighting is perhaps the most overlooked aspect of home design — particularly when you consider that many people put a huge amount of time and effort into choosing just the right colours for their walls and furnishings yet fail to consider the effect that lighting will have on those colours.
Programmable outdoor lighting can be designed not only to complement the architectural detail of your home but to allow for numerous scene settings at the touch of a button.
Smart kitchen
As the best experiences often involve indulgence of the epicurean kind, no wonder some of the coolest in-home experiences of the moment are to be found in the kitchen. Needless to say, professional kitchens have never been more popular. The latest requirements are floating counter tops, granite surfaces and stainless steel ovens, just like those that top chefs around the world use. Professional home coffee machines put many restaurants and bars to shame.
Smart home theatre
The home theatre is fast becoming the favourite room in the house. Every developer's plan we've seen in the past year has a media room or home theatre on it.
With this popularity, however, come problems: manufacturers who would rather sell you a line of baloney than correct a design flaw; ignorant retailers who sell the wrong gear; custom installers who are great salesmen (but lousy craftsmen); and, leading the charge, members of the press who have hidden agendas (or lousy ears) and mislead everyone.
The result: bad home theatre systems, purchased by well-intentioned but frightfully misinformed consumers. There is a right and wrong way to design, install, calibrate and enjoy home theatres.
The basic elements of a home theatre system are simply a place to sit, a screen to watch, speakers to listen to (especially if they're in surround sound) and a content source (such as a DVD or a television signal). Sounds simple enough, but any one of those elements can be as simple, or as high-tech and tricked-out, as you like — even your seat!
In the last few years, the technology of home theatre equipment has raced ahead, not only because bigger and better video screens and improved audio hardware have arrived on the scene but also because of the explosion in the amount of material available on DVD (and other formats) that harnesses these advances. Laugh at the memory of your old VHS tapes; it's time to get real.  With the possible exception of hot showers and air-conditioning, home theatre offers one of the biggest bangs for your buck you're ever going to get at home.
But before I go any further, let's clear up some misconceptions. Home theatre is not a TV. It's not a music system. And as much fun as it can be, it's not a video game. Home theatre is just what its name implies: it's a theatre, in your home. It's a means of watching and enjoying movies from the comfort of your recliner.  Now, let's fine-tune the definition. True home theatre is dedicated to the accurate reproduction of the film experience. Sounds simple, doesn't it? Actually, it is. Just take the right gear, hook it up properly, place it in the correct locations around the room and calibrate all of the levels. Poof! So what's the problem?
Mistake #1: buying the wrong gear
If you want home theatre, you've got to follow some rules. The first rule? Get the right gear:
* Five identical speakers: you should have three for the front (left, centre and right) and two for the surrounds.
* Identical power to all five speakers: you'll need at least 50 watts per channel in small rooms. Really big rooms may need up to 250-500 watts per channel.
* A Dolby digital surround processor. Dolby surround circuitry may be found inside a preamp (making it a "surround processor") or in a receiver (making it a surround sound receiver; ie, you get radio for free).
* At least one subwoofer, preferably two; more is better. But make sure the subs have crossovers designed to mate perfectly with your five main speakers. Otherwise, a sub is a total waste of money.
* The right screen size. No, it's not the one on the never-to-be-repeated special price at the local we'll-sell-you-anything-with-a-plug-on-it store. Sit in your regular listening chair. Measure the distance from your eye to the front of your TV screen. Got it? Now divide that number in half. All set? Surprise! If you truly want an immersive home theatre experience, the number you're looking at (half the seating distance) should be the diagonal measurement of your TV screen. You say it isn't? Time to get a bigger screen!
* Decent wire. Contrary to popular belief, great speaker wires don't need to be the size of rocket-fuel supply lines. But if you're still using the wimpy 20-gauge wire that came in the box with your speakers, it's time to upgrade. Important note: If you decide to hide the wire inside your walls or run it under your house (a great way to clean up a room), make absolutely sure the wire is rated for in-wall use. Clear jacket speaker wire won't work. Read the outside jacket of the wire: a wire rated for in-wall use will have Class 2 or Class 3 or possibly CL-2 or CL3 stamped on it.
* A great remote control. So that's six remotes, each of which has a minimum of 20 buttons. Fine. But if you accidentally sit on one of them you have no clue which one it was and what you should press to make everything work again. Of course you stab away, going into menus and endless sub-menus until eventually you're so completely baffled by the electronic maze you have no option but to summon the installer and make another contribution to his superannuation fund. Bite the bullet. Go out and buy a Philips Pronto or Marantz remote. Make the thing easy to use. Rule: program only the buttons you use more than three times per session. For example, program in the Volume Up and Down and the Channel Up and Down. But don't bother to program in the Record/Program/Menu features or any of the other things you use only once in a while. Your goal is to make the remote as simple as possible. Keep the original remotes for those occasions when you use the millions of other features. Focus on the 10 or 20 buttons you push every day and put them on one or two screens. Who knows? Maybe you and your family will use the system more often.
Smart boom boom room
And from home theatres it's a small step to boom boom rooms (aka boys' rooms or entertainment rooms). As defined by MTV, "A boom boom room is a place where you go to chill or to party, to work or to play. It's where your friends want to go when they come over; it's where you stay when you're home. It may house your big-screen TV and video games, or maybe a pool table and some plush couches. Central are entertainment, leisure and satisfaction. It's a crib's most prized possession."
Last, but not least popular, games rooms are now outfitted with such conveniences as in-home bars with authentic beer taps, toys, billiard tables, darts, shuffleboards, poker sets, backgammon, arcade stations, video games, air hockey, pinball and table football, mirroring bars and cafes in every possible way except for the limited opening hours.
Smart home office
With more and more people working from home in Australia, a frequent starting point in a renovation is the need for a home office and/or computer room, as more and more our lives involve the internet.
Smart cabling
And finally, if you are renovating, please, please put in some cables. Put Cat 5 or Cat 6 cables to every room. Just do it. Trust me. Within five years I guarantee you will build a shrine to me if you do and end up beating yourself with a piece of Cat 5 if you don't!
Yes, I know everything is wireless, but the truth is, it isn't. Check out my office: there's a wireless router, wireless keyboard, wireless mouse, wireless headset and 23 things that need a plug socket in here — and each of these 23 things needs to be connected to all the other things. That's 520 pieces of flex. And, with an average length of 6ft, that's more than half a mile of knotted wiring!
Then you have our kitchen. Not that long ago this was a simple room full of simple appliances. Pots. Taps. Cutlery. A stove. The sort of stuff that would in no way bamboozle someone from the Stone Age.
Not any more. Now it's simply a room in the house where things are charged up. There are chargers for all the kids' Game Boys, for all our mobile phones, for our digital cameras and for various cooking things we neither want nor need. I've just been in there and we have, in one room, 38 chargers — 38! And they're in such a tangle you can't work out which one does what. I spend an hour every night trying to breathe new life into my dying mobile by attempting to plug it into a socket for a video camera we lost three years ago.
So think of how many sockets you need and then triple it. Believe me, you will use them. I have seen the future and it has a plug on it.
For more information contact Ingenious Intelligent Integration Pty Ltd on ph/fax (07) 54749449 or visit www.ingenious.ru.