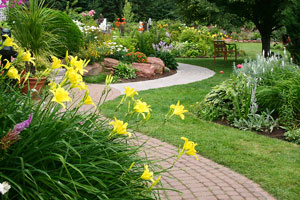 The right type of paver will add sophistication and functionality to your garden
Story: Dave Garrett, MAILDM
A beautifully paved garden or driveway can transform the appearance of your house. But before you rush out and cover your lawn with tiles to create the latest look, ensure you spend some time considering what will work best for the environment you have.
Choosing a paver for your garden is much more difficult these days than it was 10 years ago. Back then, the choice of materials was more limited with most outdoor projects using brick style (small-format) pavers and home-quarried Sydney sandstone.
Deciding on the right paver selection for your garden now, while a more formidable task, is much more fun as there are so many more options available, particularly in the large-format, manmade and imported natural stone markets.
When it comes to paving, the first question to ask is why you need a paved area at all. Is it to provide a solid floor for an outdoor entertaining/table setting area; a pathway to other areas of the garden; to direct the eye to a garden focal point; to park a car; or to embellish a pool surround? Once the reason is established, the search for the right paver can then start.
There's a number of key considerations in the selection and installation process, which include:
• Will the size of the paved area be suitable? For example, 20m2 might be sufficient for a table setting for six people and a parking area that is 4m wide will ensure a firm footing for getting in and out of both sides of a car. On the other hand, a pathway less than 1m wide can become restrictive and uninviting to walk along.
• Is the paver structurally suitable, ie salt safe if around a salt pool and driveway safe if used for parking? The manufacturer will supply these specifications.
• Can the area be drained effectively and not cause internal damp problems down the track?
• Will the proposed area of paving be within the council's permissible hard-soft landscape ratio for the site?
• What will your investment be in terms of cost and maintenance?
• How will the area look, feel and function and how will it integrate with any nearby buildings and landscape elements? These are often the most difficult considerations and where the huge number of choices on the market can confuse the issue.
As with any construction job, planning is the key to success. Most paving suppliers have displays setting out the different colours and patterns and can offer some visual suggestions to help you decide on the particular look you want to achieve. Or you might prefer to consult a qualified landscape designer who can help guide you through the paving forest and ensure compatibility with your other garden elements.
The right type of paver will add sophistication, appeal and functionality to your garden; it will also help to extend your living environment. But what constitutes the right paver? One feature to consider is the level of natural light. This is important to measure as lighter-coloured pavers can cause high levels of reflection but don't absorb heat and get hot. Conversely, a darker shade of material will not reflect light but can get very hot under direct sun, causing the temperature to increase and bare feet to get burned around the pool.
In keeping with current trends towards soft, natural, low-reflective hues for outdoors, a large selection of pavers in subtle natural stone and pastel shades is now available. These pavers come in both large and small format with a variety of surfaces, depending on whether a smooth or slightly pitted texture is required. Pavers with colour variations through them, such as natural stone provides, are also available in abundance and can be handy in areas where you might need to hide the occasional stain.
Pavers come in a range of sizes and can be arranged in a host of patterns, from random to grid or herringbone. The size and laying pattern you choose will be determined by the style of the landscape design and personal preference.
In recent times, the drought has led to traditional lawns being regarded as a less attractive option and a consequent increase in demand for pavers. This, in turn, has led to the availability of more exciting finishes and the use of more innovative combinations. For example, large-format pavers, often with texture, are being combined with cobbles, river pebbles, glass mosaics, timber, slate and/or water features to create individual outdoor living areas.
These areas can be further softened with the placement of lush plants in pots or flower beds with stylish tables, chairs and recliners. A word of warning, though: exercise some restraint as an area can quickly become too busy and the effect of the individual elements may be lost.
The use of large-format pavers has practical appeal for many as it reduces the number of grout lines required, thus making the total area appear bigger. They also have the ability to make quite separate areas flow into each other, particularly if similar-looking tiles are used in an indoor area that flows out onto a courtyard or patio.
Most large- and small-format pavers have a range of matching accessories including bullnoses in various configurations, curves and corner pieces and subtle finishes that offer slip resistance.
What you end up spending varies as much as the choice available. Natural stone imports from India and China can be a cost-effective solution for those who find the price of locally quarried stone prohibitive, and some of the manmade concrete products can provide a contemporary look to a more modern garden at an affordable price. And when it comes to trends? Who knows? We may end up going full circle with the good old brick pavers making a comeback.
Finally, ensure your pavers are laid correctly so the new surfaces will continue to look fantastic for many years. Although you can go the do-it-yourself route, it probably pays to call in a professional contractor.
About the author: Dave Garrett is a Sydney-based garden designer and director of Art In Green.