Fairweather Homes is a well known and respected housing company that has been providing contemporary award-winning housing solutions since 1982.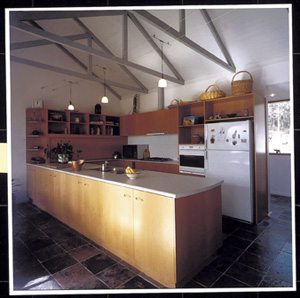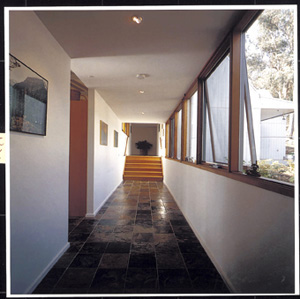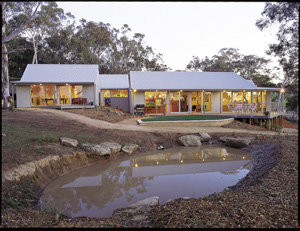 House designs are prepared by an experienced architect who uses the flexible construction system to create customised designs to suit the specific functional and spatial needs of the individual owner. Careful attention is paid to the site orientation, location, environment, climate and energy efficiency. The standard range of materials can be varied to customise the building appearance to suit the owners taste, climatic conditions, bushfire areas and harsh coastal environments. The unique modular design system allows construction time and cost to be carefully controlled while maintaining quality and durability.
Clients are able to select from four house design series as the starting point for their new home design. The Design Series, Freedom Series, Peake Series and Export Series focus on providing different types of housing solutions for a wide variety of situations.
The Design Series
The most popular series for customised family homes is the Design Series as it provides the most flexibility and adaptability. All of the features of the Fairweather Homes design system can be incorporated to provide housing solutions with unlimited single and multi-storey configurations.
The Peake Series
The Peake Series is the heart of the Fairweather Homes design system. This compact and expandable self-contained unit is suitable for small and repetitive applications such as granny flats, holiday units, multiple serviced accommodation, the resources sector and resorts.
The Freedom Series
The Freedom Series is a single-storey home with the opportunity to expand and contract the house size around a centralised zone of kitchen and bathrooms. This series is suitable for single or multiple housing, including applications such as institutional, government and mining settlement housing.
The Export Series
Developed from the Peake Series, the Export Series provides adaptability and flexibility to suit a broad range of
applications, particularly relevant to remote areas where skill and technology transfer is combined with local materials
and procurement methods.
Featured home
The home featured here was created from the Design Series. Located on a sloping block in Templestowe, Victoria, this 410sqm home demonstrates the flexibility and adaptability of Fairweather Homes. This home was designed to provide space and comfort for a growing family. The home comprises north-facing living, dining and rumpus areas, large open kitchen, four bedrooms, home office, study, laundry, storage, garages and landscaped garden. The house is built over three main levels to suit the slope of the land and zoned to cater for a variety of living arrangements with links to main family areas, and all opening onto outdoor decks and verandahs.
Sustainability and energy efficiency are integrated into all projects by Fairweather Homes. This is commenced at the design stage through careful space planning and building orientation and the use of strategically placed eaves, well-orientated and appropriately sized glazing, and quality building envelope. Careful material selection and passive solar design ensure a low-impact and low-cost building for many years to come.
Fairweather Homes uses materials which have minimal environmental impact. The wall and roof framing, cladding and window frames are all predominantly plantation-grown timber. Floor can be either timber framed or concrete slab. All walls and ceiling spaces are highly insulated and quality windows ensure a well-sealed house. Internal finishes and fittings are selected with a view to minimising energy and water use. Advice can also be provided on water efficiency and renewable energy systems.
Company profile
Fairweather Homes has gathered many awards over the years, particularly for construction, design, energy efficiency and environmental sustainability.
Fairweather Homes has built its reputation on delivering high-quality customised housing to individual families throughout metropolitan and rural Australia. Many homes have been built in Victoria, where the business has been operating continuously for nearly 30 years. With strengths in architectural design, project management and construction, Fairweather Homes is able to deliver housing to suit a broad range of needs.
Details
FAIRWEATHER HOMES
Suite 6A, 250 Gore Street
Fitzroy Vic 3065
By appointment
Phone: (03) 9416 5124
Fax: (03) 9416 5123
Email: info@fairweatherhomes.com.au
Website: www.fairweatherhomes.com.au