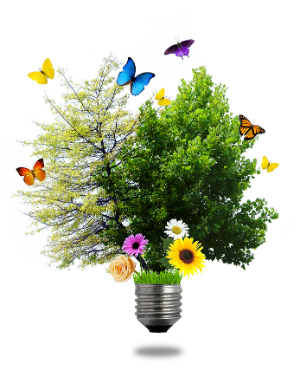 Increased awareness of resource conservation has paved the way for more sustainable products and design solutions

Story: Natalie Raad
With water restrictions and climate change in the forefront, it's good to know that easing the burden of these issues can start in the comfort of our own backyards. With the spotlight currently on our lifestyle and the impact our decisions are having on the environment, many of us have started to think about our purchases a lot more.
Many companies have already gone 'green' and are doing their bit for the environment by using recycled materials, less toxic ingredients, renewable or local resources and adopting more energy efficient manufacturing processes. The result is a growing range of eco-friendly and sustainable products for use in outdoor spaces.
"In the wood-care arena, this has led to the creation of water-based products that are not only better for the environment and the consumer. Less fumes are emitted which means a low odour, and a more pleasant experience for the consumer during application," says Sarah Hammonds, Intergrain Brand Manager.
Most conventional timber finishes contain Volatile Organic Compounds (VOCs), which are petroleum-based solvents that evaporate from the coating while it is drying. These compounds are the unpleasant solvent fumes that contribute to air pollution. Traditional oil based timber finishes have a high solvent level.
In response to this, Intergrain has developed a range of environmentally friendly water-based timber care products. With a very low solvent level, using water-based finishes is a far more environmentally responsible option.
Earthcore is another company doing its bit for the environment, offering consumers a 'green' garden care range comprising of fertilisers, potting mixes, mulches and composts — all designed with the environment and plants in mind.
Manufactured in Australia, Earthcore products use locally produced raw materials wherever possible. The range of eco-friendly and water saving solutions are also packaged in resealable buckets for easy storage.
The Earthcore garden care range includes Mushroom Compost – an organic fertiliser that increases the level of organic matter and improves the overall soil condition. Mushroom Compost helps to retain moisture and suppress weed growth; Water Saving Mulch — specifically engineered to reduce heat stress to plants, reduce weed growth and maximise water retention. It provides an insulating layer, protecting soils from extreme conditions and temperature. Cow Manure — an organic fertiliser that provides essential nutrients for good plant growth, as well as beneficial humus-forming material to enrich garden soil; and Zoo Doo Compost — a compost product made from a wide range of Melbourne Zoo's organic materials such as garden clippings, animal bedding, straw, shredded paper and selected animal manures from exotic animals such as elephants, giraffes and pygmy hippos.
In the realm of garden décor, you can find outdoor furniture built from timber grown in government certified plantations, pots made from recycled tyres, plant pot covers and gardening aprons fashioned from recycled hessian, and garden art made from recycled metal and glass. Growing in popularity are fully degradable pots which can be composted and table and picnicware made from bamboo which can also be composted when it has outlived its usefulness.
Then there is lower-energy consuming LED lighting for decks, paving and walls and solar lighting, which today ranges from path lights to wall lights, and from paving 'bricks' you can build into pathways to novelty lighting you can use on tables.
Where possible, look for companies that participate in carbon offsetting programs or have sought — and received — carbon neutral certification. For guidance on choosing water-wise gardening and outdoor products, look to labelling programs such as Smart Approved WaterMark.
In addition to 'green' products for use in the garden, Sustainable Buildings (winner of more than 50 energy efficient housing awards across Queensland) has gone a step further, offering environmentally-conscious consumers a total 'green' solution from design through to construction.
"We create a total master plan of the site for the next 25 years," says landscape architect Tobias Volbert. "We incorporate the whole site in our plans and look at how the land is shaped in order to come up with a sustainable and long-term solution for the client."
The company has a range of water tanks, solar pumps and panels and solar hot water systems. The company also uses ModWood as a decking material.
"ModWood is made up of 50 per cent saw dust and 50 per cent recycled milk bottles, and requires no maintenance," says Tobias. Although slightly more expensive than other decking materials, ModWood has no on-going maintenance costs and ends up being a more cost-effective solution in the long-term.
"When we do use timber, we use plantation timber rather than that derived from rainforests," says Tobias.
In addition to going 'green', Sustainable also uses native plants (shrubs, trees and grasses) in its designs, all of which are low maintenance. "In the last two years we've seen an increase in the number of clients who want a low-maintenance and sustainable garden," says Tobias.
"We also use organically certified soils as fertiliser and forest mulch, which is recycled matter."
Sustainable Buildings also uses Aerobin a composting system that uses an aeration core inside a sealed bin to promote aerobic breakdown of organic matter. This aerated composting of house and garden waste contributes positively to the environment and according to the experts, is the preferred method to reduce greenhouse gas emissions.
"We recycle 98 per cent of our construction waste and this recycled material is then converted and offered as a cheaper alternative to our clients," says Tobias.
Growing your own food is another sustainable solution that is offered by Sustainable Buildings. Tobias encourages his clients to incorporate a vegetable patch as part of their garden design.
"Most clients initially say no to a veggie garden, for fear they will be too busy to look after and maintain one. However, 80 per cent of my clients change their minds during the project once they see a vegetable and herb garden as part of the overall design, rather than just a small patch in the corner of their backyard," says Tobias.
"We incorporate veggie patches as part of the entertaining space, as something that not only the adults but also kids can engage with."
With so many sustainable and environmentally friendly products on the market, and with complete 'green' solutions available when it comes to garden design and landscape, going green has become more of a lifestyle choice rather than something imposed upon us. And with obvious benefits for both the environment and us, why wouldn't we go green?