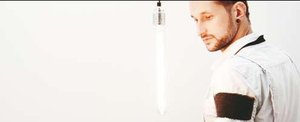 Self-taught German lighting designer Volker Haug was 10 when he designed his first light in a shed, while on holiday in the Czech Republic. However, when he finished school, he tried his hand at landscape gardening for six months before pursuing hairdressing for 15 years, despite the undiluted passion for lighting that wouldn't be quashed.
"After 15 hairy years I realised that I had to pursue the lighting thing as it wouldn't go away," says Volker. "The profession 'lighting designer' didn't actually exist, that's why it took me so many years to find my way into artistic lighting design." It was Volker's "accidental" meeting with the late Geoffrey Mance that helped him realise his passion and talent. "I found Geoffrey accidently but I feel that it was actually meant to be. He is an amazing artistic lighting designer, right up my alley!" After working with Geoffrey for a yearand- a-half and learning everything he needed to know about lighting and the lighting industry, Volker took a chance to break out on his own. He now designs small-, mediumand large-scale lighting pieces for private and public spaces. "I transformed my garage into a workshop and did the New Enterprise Incentive Scheme, which was very helpful in facing all sides of the business as well as having some financial support," explains Volker. "I had my first big commercial commission at Breathe Yoga & Pilates in the Melbourne CBD."
Volker has a very unique style for his lighting design, which he describes as "simple, quirky and humorous yet elegant — different to what people are used to". While each design, from the OMG Shade to the Cable Jewellery range, is comparably different to the next, they are all identifiably Volker Haug designs. Always keen to educate people on the effect lighting can have in our lives, Volker is drawn to designs that feature clean lines with splashes of bright colour. "I'm more into industrial textures and things that stand out from the crowd," he says. Inspiration for his quirky, fun lighting designs comes from everywhere, he states, "from a Scissor Sisters concert to insomnia nights to travelling. Inspiration often strikes at the strangest hour in the strangest place!" It is this inspiration that has borne the creation of his popular designs including the Wow Shades, Gone Fishing and Antler ranges, to name just a few. Describing himself as passionate, curious and quirky, Volker's positive energy seeps into his creations and is well suited to his philosophy on design and life: maintain individuality and don't follow trends.
For more information, visit www.volkerhaug.com