Super-smart home consultancy Ingenious has created a truly special waterside location on Queensland's Sunshine Coast.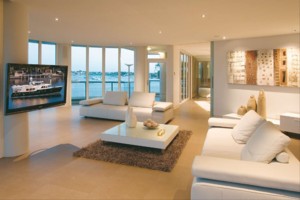 "Australia really is a great place. Happily, due to circumstances beyond our control, particularly this year, the Sunshine Coast in Queensland is living up to its name," reflects Ingenious' Deanne Axelrad when talking about the company's latest project. "At the time of writing it's entering its fifth month of straight sunshine." And on the road, of course, what you need is a convertible car.
When the sunlight is flashing its radioactive Morse code through the overhanging trees, and the morning dew is picked out in the overnight cobwebs, you have an excuse for putting on your Ray Bans and listening to some Dire Straits and wondering what everyone else is doing. "Because we have space and some of the most beautiful coastline in the world here in Australia, we can also create some stunning 'convertible homes', which is exactly what we did in this fabulous waterside location on Queensland's Sunshine Coast." Although Ingenious handles projects all over Australia, and even internationally, Queensland is the heart of its operation and it really scores on the Sunshine Coast.
This project was an absolutely perfectly situated penthouse apartment. Beach outside and a deep water jetty allows the owners to float up river or just watch the water flow by and turn to liquid gold with the rise of the sun. A truly inspirational location. "This was no small project. This was a conversion that stripped this penthouse back to bare concrete," Deanne said. "Luckily we had a good base to work from. The penthouse already had Dynalite lighting control throughout when we first came to the project. Dynalite is certainly a superior system.
Many large commercial buildings use Dynalite control systems so in a domestic environment it really is totally robust and reliable. So we built the smart system around the Dynalite base already there." Ingenious only had to put in new control wiring using Dynet cable. Such is the quality of the Dynalite product that there was no need for replacement and in most cases not even a software upgrade had to be installed. Although Ingenious works with all market-leading control systems, Ingenious system visioneer Alan Lawson says, "We do have a preference for Dynalite at the moment. Of all the systems we work with, Dynalite is definitely the most reliable and easiest to work with. It has an easy interface for our clients and it is very easy to adapt as their personal lifestyle changes. For instance, even in this full-on renovation, all we had to do was install the new dimming and relay controls for the functionality our clients required. These new units fitted seamlessly alongside the original controls. Dynalite is definitely a quality product." Ingenious proposed the particularly fashionable Revolution series of keypads for this project. These keypads have architectural face plate finishes and such is the flexibility of these controls that you can make the face plates out of any material that can have a slot cut in it; wood, glass, stone or metal. Surely an interior designer's dream. These keypads were installed along with one of the first new Colour Touch screens just released by Dynalite. In fact, this screen is believed to be the first one installed in Queensland.
In consultation with the clients, Andrew Roach, Ingenious senior system architect, programmed various lighting scenes into the control system such as 'Party", "Entertaining" and "Dining". This scene creation allows the owners to control the intensity of lighting in 20 or more different areas from a single button press. In addition, of course, the normal "House Off" and "Going Out" scenes were available at the touch of a button. "It's funny," says Deanne Axelrad. "We still get clients who query the concept of programmable lighting. It really is one of those things you have to experience. We have had clients who insist on just having it in part of the house and without fail they have come back later and had the rest of the house done. Once you have had it you will wonder how you ever did without it." Such is the flexibility of the Dynalite system that it was possible to integrate full control of multi-speed ceiling fans and the new ducted airconditioning to various rooms as part of the smart control system. "Of course, this is one spot where the sun erupts like an interstellar array as it pops out of the waves every morning. So if you don't want your retinas seared before you can get to your first skinny latte of the day on the expansive deck, then blinds are an absolute must. But this is Ingenious so the cool quotient is very high," said Deanne.
Ingenious has advocated the Svensson range of blind material over the past couple of years and has designed systems all over Australia where clients have wanted the best. Svensson has evolved the most sophisticated technical textile-producing facility in the world. In summer, the aluminium in its space-age blinds will reduce internal temperatures by up to 12°C and so reduce the cooling loads on your airconditioning (and wallet) and then in winter help reduce heating costs by up to 41 per cent. These blinds are available in a range of colours and opacity to fulfil the desires of the fussiest design diva. In addition, if you need further reassurance, you will see Svensson blinds in some of the most famous buildings in the world. Naturally, one wouldn't consider manually raising and lowering these masterpieces so Ingenious specified the Rolls-Royce of blind motors made by Somfy. Somfy dominates the blind motor market globally. It operates in 53 countries and its reputation is second to none. Needless to say, as this is an Ingenious project, this apartment is highly specific and everything is extremely well thought out. So it goes without saying that the theatre room and master bedroom have the added luxury of hand-held remote control of lights, fans and airconditioning so you don't have to leave your chair or bed. Space is always at a premium in an apartment; even a big one. Of course, Ingenious is a stockist of the world-standard Sherbourn range of AV products. And one of its best pieces of equipment is a humble fan. Quiet as a church mouse but essential when you have to put some hot electronics in a cupboard. The Dynalite system is particularly impressive.
Dynalite seamlessly gives you infinite control of lighting scenes. This not only significantly adds to the ambience of a home, but it also has a serious environmental and cost benefit. By controlling your house lights in this way, fading and setting the maximum light to appropriate levels also significantly extends lamp life. This is a very impressive, high-quality project typical of Ingenious. You can see why they position themselves as Australia's leading smart home consultancy.
Ingenious Smart Home Technology,
PO Box 1496, Noosa Heads, QLD 4567.
07 5474 9449
info@ingenious.ru