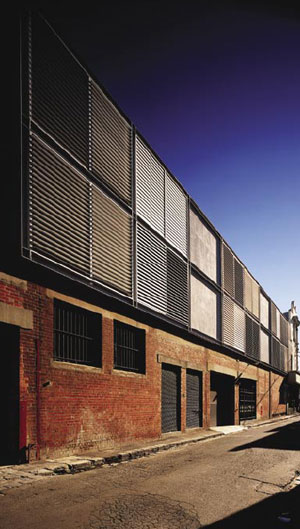 Converting an old piano warehouse in Melbourne created new life for a tired building and a sanctuary in the inner-city
WHEN IT CAME TO converting a rundown piano warehouse in Richmond into a heavenly living space, optimising the re-use of the existing building and respecting the heritage streetscape were primary objectives.
SJB Architects was briefed to work with the old to make new. The project team retained many original features of the warehouse building that enhance the look and feel of the new space, including exposed timber roof trusses (incorporated into the new courtyard space) and pressed bricks, stripped back to their raw form after being hidden beneath layers of paint.
Existing commercial residences on the ground floor of the building remained untouched and continued normal trading hours throughout the construction.
Fourteen one- to three-bedroom apartments were built over the existing first floor and a newly-built second floor. A ground-floor car park was reworked to accommodate six double-car stackers for resident car parking and a new residential lobby was created off the street.
Anchoring the development is an internal landscaped courtyard, which takes a significant area of the floor plate and around which the majority of the apartments are clustered. From internal balconies, residents can enjoy a tranquil oasis that features bamboo planter beds and radial timber decking. The courtyard allows cross ventilation and creates a unique, private landscape in a largely industrial area.
New window openings in the façade are differentiated from the old building fabric with deep charcoal-coloured steel reveals. A dramatic woven-steel screen announces the residential entry at the street level and meshes with the raw industrial fabric of the original building. Original brickwork was left unpainted on exterior walls. The exception here was the Swan Street façade, which was repainted with Dulux Grey Mountain.
Inside, the apartments are generously sized with open-plan living areas that have vistas of both the internal courtyard and the street. Living areas are well separated from the bedrooms, with large kitchens complementing full-width balconies. There are good acoustic properties, with Amtico timber grain vinyl plank flooring. A subdued colour scheme of white and grey flows throughout. Black Zimbabwe granite from Adriatic Stone creates the benchtop in the kitchen, where Smeg appliances are used throughout. The bathroom complements the feel of the rest of the apartment, with ceramic glazed tiles in satin white and black De Fazio glass mosaic tiles on the walls.
By retaining the charm of the past and splicing in contemporary style, this is a warehouse conversion that offers a warm living space and city lifestyle set within a spectacular urban oasis.–CHD–
SJB ARCHITECTS
25 Coventry Street, Southbank Vic 3006
Tel: 03 9699 6688
Fax: 03 9696 6234
Email: architects@sjb.com.au
Photography: Tony Miller