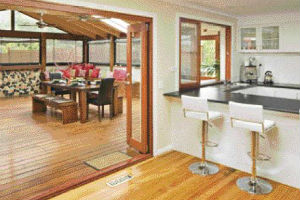 Custom-designed for a Melbourne family, this outdoor room is one of a kind
An outdoor room has become a modern must-have. It's what we all crave — somewhere light, bright and airy where we can relax or entertain and where we can feel connected to nature and enjoy the alfresco lifestyle, no matter what the season.
Today, outdoor rooms have all the style, comfort and ambience of an indoor living room as this stunning project in the Melbourne suburbs, designed and built by InsideOut Construction Group, proves. Working in close consultation with the homeowners, InsideOut Construction Group came up with a contemporary design that met the family's lifestyle needs and then set about building the home extension.
The brief from the owners was to bring the inside of the house out into the outdoor room, ensuring a seamless indoor-outdoor connection and significantly increasing the space they had for entertaining family and friends. Similarly, they wanted to be able to open up the house to experience the outdoors, whether in summer or winter, without having to battle the elements.
For the team from the InsideOut Construction Group, the main design challenge was to make the outdoor room feel like an interior living space and to ensure it had a genuine sense of connection with the house. Being able to cook in the outdoor room and still feel a part of what is going on in the house was one of the owners' top priorities.
Ensuring the outdoor room was a perfect architectural fit with the home was equally important, as was the ability to use the room year-round and have good access between the house, outdoor room and garden.
The choice of materials is critical when designing an outdoor room. For the flooring, InsideOut Construction Group decided on 140mm and 70mm merbau decking boards, laid alternately. This gives the space a lovely warm ambience, references the timber used elsewhere (for the outdoor kitchen cabinets, ceiling, window and door frames, built-in bench seating) and works in harmony with the feature tiling on two of the walls. The result is an appealing "inside room" feel.
To ensure there is natural light in abundance during the day, InsideOut Construction Group installed a loft-style glass skylight. This works in accord with the insulated solid roof (which boasts an insulation rating of R2.5, the same as the house) and the ceiling-mounted fans to create a space that is comfortable and inviting.
At night, the outdoor room is illuminated by downlights in the existing eaves and directional lighting in the apex of the roof to create the perfect ambience for an alfresco dinner party. What more could you ask?
Project details
Project design and construction by InsideOut Construction Group Pty Ltd Mobile 0418 379 164, 0418 539 701 Fax (03) 9723 5894 Email insideoutconstruction@ozemail.com.au Photography by Patrick Redmond