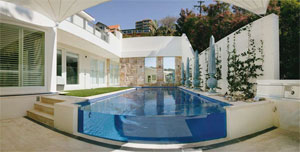 Looking to build a pool but not sure where to start? Check out this handy guide compiled by award-winning swimming pool and landscape designer John Storch from A Total Concept Landscape Architects and Swimming Pool Designers
Swimming pools detail design trends
According to John Storch, principal of award-winning A Total Concept Landscape Architects and Swimming Pool Designers, "Overall, there is a trend for simplification occurring. Pool design is becoming less complicated, utilising clean lines and monochromatic colours. People are looking for the 'wow' factor in the finer detail. Chunky square edges in the paving create shadowlines around swimming pools, unusual coloured micrograin interiors are being used, and entertaining and relaxation areas around pools are being created with paving alternatives."
Generally, there is a growing trend for automation in swimming pools, for increased safety for children and pets, for environmental considerations, for use of recent equipment improvements and to maximise the alternative uses of the swimming pool area.
Swimming pool style trends
Summer isn't the same without a pool that you can jump into to cool off, and there are many different designs and options to meet the preferences and budget of any homeowner.
Gone are the days when the only selection for a pool was a freeform pebble pool in either a kidney or peanut shape.
Swimming pool design options range from traditional formal pools through to Asian fusion utilising aspects of freeform and hard-edge shapes, contemporary designs with a blend of simplistic clean-lined geometric profiles, natural freeform pools and plunge pools, swim spas, lap pools, and hybrids of each of the above which may also be integrated with a spa or be a free-standing spa by itself.
When it comes to obtaining professional advice on what style of swimming pool should be installed on your property, it pays to seek out the most reputable companies in the industry to obtain independent advice. This will ensure that every angle is covered and every contingency is catered for, and you'll benefit from years of experience garnered from the best in the business.
Sometimes the architecture of the home may indicate the style that should be adopted for the swimming pool. For instance, a classic architectural style such as Edwardian, Federation or even Californian Bungalow may be best suited to a geometric design incorporating circular swimouts at the ends or central along the length of the swimming pool.
A contemporary home may be best suited to a geometric pool with a simple, clean, hard-line design possibly incorporating an infinity edge, where a view beyond the property line is aesthetic, such as a lake, ocean or panoramic hillside to draw the eye beyond and to give a strong architectural element.
A home located within a bushland setting can accommodate a bush or tropical freeform pool design, where the surrounding vegetation and natural organic shapes may be visually incorporated into the design. Informal or geometric lines, undulating levels and sympathetic "earthy" use of materials are the design components of a native bush pool and garden.
A plunge pool, spa or swim spa may be best suited to small external spaces. With higher-density living on the increase, tougher development controls, smaller private exterior spaces and more people expecting these areas to be utilised in many different ways, a plunge pool affords a cool place for a dip in the summer and may be cost-efficiently heated for extended winter use.
Plunge pools are typically smaller than 6m x 4m, may incorporate swim jets for exercise purposes (often called a swim spa), and often are designed to visually appear as water features. Benches are usually provided along the entire internal perimeter of plunge pools to provide shallow water for younger children or a socialising space for teenagers.
A lap pool is often suited to a long, narrow garden area and is an option for the perfect exercise accessory to stay fit and healthy. Terrace homes and gardens often lend themselves to this type of pool design.
Spas can be incorporated into the swimming pool or may be constructed as a stand-alone feature. As a cost-efficient option, there are numerous quality prefabricated fibreglass spas that can be used as a central entertaining area for the home.
Often, where a spa is incorporated into the swimming pool, the two can be designed at the same level so the pool and spa are visually read as one rather than two separate structures. Alternatively, the spa may be elevated above the swimming pool to create a cascade feature from the spa to the pool.
The rear-garden pool areas of our homes are our own "private" spaces so really, any design may do; there are no rules. Have fun with the pool design and remember that the pool is being built for your family, so if you want the silver interior lining, windows in the pool side and a banana float, go for it.
Swimming pools remain all the rage in the home improvement market. They offer the perfect mix of relaxation and good, old-fashioned fun.
Hints for good pool design — and avoiding the pitfalls
• Always include adjacent areas within the pool design to incorporate paved areas for entertaining and lounging.
• Always design the adjacent areas as part of the pool design. Don't design the pool in isolation.
• Think seriously about including a pool cabana into the pool area.
• The types of paving materials used around pools are endless: sandstone, travertine, ceramic, quartzite, marble. Natural products are always best!
• Ensure the colours of the new fences, paving, coping, internal finishes, waterline tiles and adjacent plants and painted surfaces all work together and with the residence.
• Ensure new fencing is glass or steel in a subdued colour or hidden in garden areas.
• Engage a professional swimming pool a landscape designer. Their costs will be saved just by the mistakes that you won't make.
• Remember the importance of good lighting. LED pool lights are a great option.
For more information visit www.atotalconcept.com.au
A Total Concept is an established award-winning practice specialising in the integration of outdoor spaces incorporating beautiful and functional swimming pools, gardens and cabanas for projects ranging from simple family homes, elaborate residential properties to boutique and resort-style developments. The team at A Total Concept provides services extending from consultations, designs and specifications, council approvals, builder recommendations to the total management of the project and contract administration.