Put a little zest into your outdoor entertaining with a quality woodfired oven.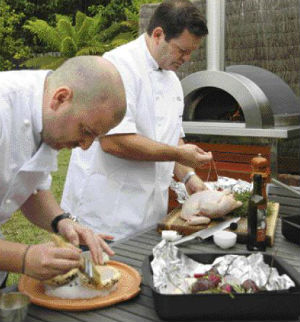 As homeowners continue to demand greater variety and versatility when entertaining outdoors, the woodfired oven is rapidly becoming a must-have item in outdoor rooms and backyards right across the country.
Zesti Woodfired Ovens is an Australian company that offers a wide array of contemporary ovens designed for today's modern lifestyle. They are considered by many to be the ultimate cooking appliance, handling a varied range of food, including roasts, bread, vegetables, seafood, poultry and that all-time favourite, pizza.
For many, the biggest benefits of a Zesti woodfired oven are the authentic woodfired flavour it gives your food and the restaurant-quality ambience it creates — all combined with the fun of cooking in your own backyard.
The growing attraction of the woodfired oven is in part due to the influx of celebrity and reality cooking shows that feature woodfired oven cooking. Two leading Australian chefs, George Calombaris and Gary Mehigan (pictured), are great fans of woodfired cooking and happily extol its virtues. They are also proponents of high-quality cooking appliances, which is why they both endorse the Z1100 woodfired oven from Zesti Woodfired Ovens.
"Cooking in a Zesti woodfired oven creates an amazingly natural flavour that you just can't replicate. Whether you're trying your hand at making pizza or a moussaka, this oven will make you cook like a star every time," says George.
Gary is equally enamoured. "I have everything I need at work to cook great food, but when it comes to my home it's all about the pleasure. I just don't know what I would do without my woodfired oven," he says. "The barbecue is the great Aussie icon, but there is nothing better than a wood-roasted chicken or a slow braise ticking gently away next to the golden embers; the aroma and flavour are unbeatable. Thank you, Zesti."
Of course, the benefits extend further than the food you can cook and the enjoyment you have doing it. A Zesti woodfired oven doesn't require the same maintenance as a barbecue because it self-cleans each time it is used thanks to the high temperatures reached during the cooking process. Also, Zesti Woodfired Ovens has eliminated the age-old problem of "bad cracking", the curse of many rendered woodfired ovens, by using stainless steel in its contemporary design.
What's more, a Zesti woodfired oven is a breeze to use and install. It can be easily incorporated into a kitchen as a built-in unit, installed as a freestanding unit in an outdoor room or placed on a trolley by the pool, but whichever path you choose, it will be an investment in your family's lifestyle that will be enjoyed for years to come.
For more information visit www.zesti.com.au