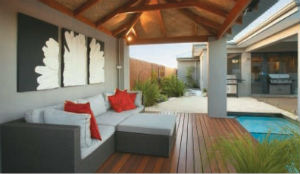 A garden to enjoy, whether it's relaxing in the cabana or dining on the covered deck
A beautifully furnished outdoor room and a modern covered dining area give the owners of this Perth property maximum flexibility when entertaining.
When garden designer Linda Green of Hidcote Landscapes first met the owners they were armed with a list of must-haves, which included a pool that wrapped around the covered alfresco dining area, a waterfall that you could swim under and a cabana for relaxing in.
The decked alfresco area is the social hub of the rear garden. It is accessed directly from the house and is enclosed within a frameless glass security fence that allows uninterrupted views of the pool and nearby cabana. A sightline extends from the front door right through to the back garden, so Linda positioned the waterfall where it can be seen as guests enter the home.
On either side of the poolside waterfall, which was designed so that bathers can swim through it to reach in-pool seating, are rendered walls. One has a horizontal panel of white river-washed stones and screens an enclosed area for the pump, filtration and storage. The other side the wall extension features a trio of vertically positioned square cut-out wall niches to give the wall a three-dimensional appearance.
A parapet wall was used to create additional space for the cabana, which has a gabled roof supported by feature beams and a ceiling lined with bamboo weave. Furnished with a modular outdoor lounge suite and wall art, it's not only the consummate outdoor room as it also performs a very practical purpose by blocking out views of adjoining houses and adding to the backyard's feeling of privacy and enclosure.
Today, an outdoor shower has become almost as essential an inclusion as a water feature. Accessed via stepping stones through the garden, the outdoor shower provides a place where bathers can rinse off after a swim or quickly cool down on a hot summer's day.
Textural contrasts give the garden a feeling of warmth and added interest — from the poured limestone paving and rendered wall finishes to the lawn, timber decking and reed matting that covers the fences.
Project details
Landscape design by Hidcote Landscapes 28 Wardie Street, South Fremantle WA 6162 Phone (08) 9335 1475 Mobile 0409 982 998 Email linda@hidcote.com.au
Website www.hidcote.com.au Photography by Ron Tan