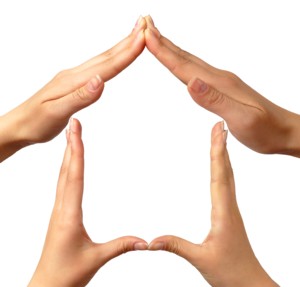 Photography by Andrew Lecky
To accommodate a growing family, renovations to this home have cleverly integrated two additional bedrooms and extra living space into the design, while still maintaining its modest building form.
Externally, the home needed to keep as much of the property's outdoor entertaining and garden areas as possible while internally the owners were keen to retain soaring cathedral ceilings in all living spaces. The solution for the designer, Nagy Design, was to create a double-storey construction positioned toward the rear of the existing house, which extends over to a protruded roof structure at the front of the home. Colorbond roofing with custom-flashing details and black timber-framed windows with aluminium strips give the building a striking form, and give the design balance and presence without excessive building bulk.
To the rear, the extension suspends partially over the yard to create a covered patio area. This allows the home to integrate with its surrounding environment and make optimal use of the outdoor space. A large master bedroom suite is contained within the new addition and features a sloping feature window as well as shaded westerly windows to let in ample natural light without intense heat. The porcelain-tiled ensuite has a frameless glass double shower with a feature pebble panel, a custom-designed and -built double basin in timber and glass, and a spa.
The adjacent home office or rumpus room features a utilities podium, which is raised on the ceiling step of the kitchen below. North-facing windows let in natural light, while two additional windows face inward to the home's entry void. These windows provide an interesting outlook down to the spotted gum flooring of the entry, which is illuminated by designer lighting.
The design was the winner of the BDAV awards for Best Residential Alterations and Additions under $100,000, as well as the winner for Small Budget Innovation in Building Design. Geoff Hoare, chair of the BDAV judging panel, praised the clever application of a controlled design discipline to meet the challenges of a small budget. "Nagy Design solved some challenging problems, including a lack of space and the risk of excessive building bulk. The resultant building is creative in its simplicity. Its features of form and finish create a pleasing design that belies the budget difficulties," he said. The building uses the site to best effect with a design that is both pleasing in its aesthetics and interesting in its form.
PROJECT PARTICULARS
The project was designed by Zolton Nagy of Nagy Design
Phone (03) 9560 5454
Email: Zol@nagydesign.com.au
Website: www.nagydesign.com.au
FLOORING
Living areas: Wool sisal
Kitchen: Natural grade tongue and grove spotted gum
Bathroom: Porcelain tiles
Bedrooms: Carpet
Outdoors: Concrete pavers and timber decking
WINDOWS
Painted cedar awnings
DOORS
Custom-designed entry door
WALLS
Painted finish to plaster walls
Entry void: Feature aluminium strip inlays
LIGHTING
Low-voltage downlights
KITCHEN
Benchtop: Concrete, hand poured on site
Splashback: Glass
BATHROOM
Porcelain and pebble tile feature, frameless glass shower; custom-made redgum and white translucent glass and stainless steel vanity unit
OUTDOOR AREAS
Split-face concrete retaining walls with capping stones, Merbaul slate fencing, shade sails, water feature, lime-washed walls, Colourbond custom orb