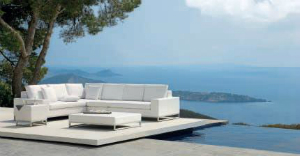 Over the past decade, new ideas, designs and products have emerged that make changing the way your home connects with your garden easier and more affordable to achieve. Check out the latest tips and trends for planning your own outdoor room.
A new attitude
The way we think about gardens is changing and that is now finding its way into our outdoor rooms as well. Outdoor rooms that are simply a sterile replication of another indoor room (but with fewer walls) are giving way to spaces that feel much more like a true transition between house and garden. Instead of a few spiky succulents or grasses in pots being added as an afterthought, in this exciting trend the garden pushes its way right through into the house, too, with plants now an integral part of an outdoor room.
This new generation of outdoor room, where not only does the inside come out but the outside also goes in, is easy to achieve when you use a good landscape designer who understands both plants and hardscaping. Raised planter beds merge into smooth walls that incorporate built-in benches and hidden storage, so the sleek, clean lines of the built elements carry through from outside to in. Lush plants tumble out of large planter boxes and spring up from beds worked into imaginative paving design.
Quality counts
The materials and hardscape elements that go with these outdoor rooms show quality, longevity and sustainability. Traditional craftsmanship is making a comeback, featuring in carefully worked timber, furniture makers experimenting with a variety of styles of wicker weaving and artisan-made rather than mass-produced decorator items. Homeowners are asking more questions about the manufacturing, materials and durability of what they are buying and becoming conscious of how each of their decisions affects the world they want to live in.
Location, location
Rather than always being tacked onto the back of the house, more outdoor rooms are being created as separate pavilions, connected by anything from a covered walkway or a bridge across an ornamental pond to simple stepping stones set into lawn. Often this gives the room a better northerly aspect, so winter sun and summer shade can be harnessed to make it a more pleasant place to be.
If you're not able to build something permanent, you can still make an outdoor room out in your garden with a few posts and rails and some beautiful sheer curtains, or for a few hundred dollars you can buy a pop-up metal-framed gazebo with a fitted canopy — many also have insect screens for mozzie-free dining.
Getting underfoot
Flooring options have never been greater and the "now" look in hard flooring is definitely natural stone. Sandstone, limestone, travertine and granite are available in both local and imported stone, so you can find colours ranging from warm peachy tones through creams to stark, greyish whites.
Rather than mirror-polished, surfaces are more natural with pitting and soft texturing making them feel like a foot massage when you walk on them. Preferred pavers are still large, often up to 800mm × 500mm, but can be given subtle contrast with smaller unit pavers or cobbles in a slightly darker tone used for decorative banding and edging.
In manmade pavers, popular choices mimic the pale colours and textures of natural stone, such as Boral's Coast pavers in Shell and Driftwood, and Austral's large-format clay pavers such as the Moda Ceramic pressed paver range.
Lavish furniture
Outdoor furniture keeps getting bigger and comfier. Covered daybeds are still a major trend but the fashion for large lounges with a chaise has also moved outdoors, such as the Hamptons range by Roberti. New seating styles are featuring more organic, curvy outlines, often woven in hard-wearing wicker.
Look for good-quality pieces made from durable wicker such as Hularo or Viro, which come with a long warranty, as with wicker furniture you really get what you pay for, including the construction and metal used for the internal frame. Deep chocolate wicker is still popular as it doesn't show dirt, but newer looks are favouring paler or more natural-looking colours in white, straw and light grey. Timber furniture is often inlaid with metal or stone for a unique look, such as Laidir's new Omaroo range, which combines steel, black granite and blue gum.
Urban farm
Growing your own food has moved from dabbling in some easy-to-grow vegetables to a serious attempt at some self-sufficiency. In the urban farm, the outdoor room becomes the focus of organic fruit as well as herb and vegetable growing, conveniently straddling the space between garden and kitchen or also providing its own cooking area.
Garden to table is easy when you have everything at hand. Natural inclusions are a woodfired oven for bread and baking pizzas covered with your own ripe tomatoes, capsicum, fresh basil and oregano. Beyond is a garden where you can forage for edible ornamentals such as abutilon flowers, kaffir lime leaves and geranium petals. Colours that highlight the urban farm theme include raspberry, earthy brown, milky white, cream, butter yellow and fresh green.
Keep the sustainable theme going with carefully sourced products such as reclaimed and FSC-certified decking. Salvaged timber or palm wood furniture from Laidir and reclaimed timber tables, benches, chairs and cabinets from Overboard Designs complete the look. A big trend in gardening is knowledge; reading books and magazines, hitting the net and learning from others at community gardens will help you really understand the soil, climate and growing conditions you're working with. And so you really know your onions, pick up a copy of Organic Vegetable Growing by Annette McFarlane.
Tribal jungle
Even if you don't have much room for conventional planter boxes in your outdoor room, you can still really green it up. New ways of growing plants sees them cascading from rooftops, twining up poles and covering walls. There's a plant for every tiny space when you install a vertical garden or make use of excess hard surface areas with a version of the roof garden.
Put some time into research and put some money into good-quality advice, design and construction so your house walls are well-protected, the plants are carefully selected for their beauty and water-wise habits and the maintenance is straightforward. Sit among your jungle on timber furniture in rich browns or bronze and pewter-toned metal. Colours for the tribal jungle are rich orange, berry and spicy brown. Look for decorator items in bronze metallics and textured surfaces.
Coastal chic
Intense sea blue, crisp white, ivory, charcoal and natural textures work together to bring home the dazzling light, high contrasts and sand-softness of the coast. Woven wicker chairs and sunbeds such as Breeze or Flow by Cane-line invite you into a comfortable world protected by a softly draped outdoor fabric canopy and curtaining in sheers or unbleached linen and cotton.
Real stone or textured pavers in off-white are reminiscent of a sandy shore (but without the grit) or choose hardwood or cypress pine decking that can weather to a soft, maritime grey. The look is spare and open, so keep decoration minimal, showing off just one significant sculpture. Australian coastal plants such as tea tree, westringia, pigface and grasses add the right colour tones and textures.Design smorgasbord
As part of a 1960s and '70s revival — and perhaps a reaction to the heavy, square shapes and dark browns of recent years — the simple, open and angular lines and light-coloured timber of Scandinavian design are making a comeback. Look for outdoor furniture using blond woods, sustainable teak or white-wash and limed finishes. Signature styles include the Sorrento Piazza range or Eco Outdoor's Barwon chairs. Fabrics that work with this look include whites, natural cotton and leather look, with accents and coloured walls in jewel-like sapphire blue, light olive green and deep green.
Metro retro
Mad Men and 1950 and '60s vintage chic is inspiring colours and materials for outdoors as well. Traditional Adirondack chairs, retro aluminium folding chairs and square concrete pavers with a few contrasting coloured squares mixed in can be teamed up with space-race-style odd angles or ovals and circles.
Incorporate kidney, triangular and boomerang shapes in garden beds and tables. Turquoise, lilac, mid grey, sunny yellow and mint green make perfect accents in plain, polka dot, striped and patterned fabrics for cushions, window awnings, contrast coloured walls and painted concrete planters. Add lilly pillies clipped into balls and cones; tall, skinny conifers; some white pebble mulch; and a funky modernist water feature — a-la Jacques Tati's film, Mon Oncle — to complete the picture.