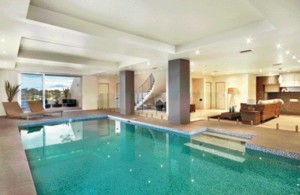 It is no secret to the onlooker that the integrity displayed at face value by this home is a true promise of greater things to come. Set proudly into the picturesque landscape of Connells Point, this four-storey home beckons from the streetscape. Its powerful stance and bright lights extend a welcoming arm, ushering in its guests who tour slowly to satisfy their curiosity. Indeed, there is no way to navigate the grand ascent to the entranceway — consisting largely of a broad resort-esque staircase — if not with care and grace. At that final step, a grand foyer entry marks the start of another journey with its sweeping high ceiling, magical crystal drop-ball, and polished Isparta imported marble tiles.
Making full use of its 741m² block and impressive vertical reach, this home sets a new area benchmark in luxury living. It is characteristic of the surrounding residential area in Connells Point, which tends to offer spacious, multi-bedroom homes for families. And like many of their neighbours, the owners of this residence were also compelled to rejuvenate their lifestyle through their home — to make the most of their spectacular southeasterly water views. But in its inspiring, spacious design and flawless finish, National Construction Group has ensured this home is ultimately a class apart. Each level is function-specific. Accordingly, garage and storage space is catered for by the bottom-most floor, with recreation and living areas reserved for the next floor up. Herehas been created the most beautiful indoor pool. Zurich Rock Face Ash tiles surround this wonderous heated water feature, with blue mosaics gleaming from underneath the surface.
A frameless glass pool fence creates an uninterrupted transition from the pool area into living and recreation spaces beyond. Frameless glass is one feature that is used consistently throughout every level of this home, making appearances in the bathroom and on all five of the home's extensive balconies. The flow in energy it achieves is palpable, as light is unhindered and space magically created by these invisible walls. As a result, the dynamic views of the Georges River foreground permeate this home. The effect is further achieved by Vantage design glass doors and windows, floor-to-ceiling frameless fixed-glass panels, and strategically placed skylights. The combination allows for a consistently breathtaking effect across all levels of the home. The bright colours of the external view are complemented by a softer, controlled natural palette for most of the interior wall and floor space. This theme is most impressive in the smooth finish of the kitchen, which features German glass cabinets and an 80mm CaesarStone island benchtop. National Construction Group also pulled out all stops on the extras, commissioning Miele to supply the coffee machine, microwave, steam oven, convection oven and gas induction cooktop, and integrated hood.
Elsewhere throughout the house, splashes of colour have been added to lend a vibrant character to the more intimate spaces. There is, for example, the occasional red cushion in the bedrooms, a beautiful blueand silver artwork in the lounge area, and aqua glass feature tiling around the bar. This theme is somewhat consistent across every level of the home, but there is one room which remains appropriately unique — an internal home theatre. This room uses warm coffee and rich brown hues to create a relaxing, and exclusive, earthy vibe. The home theatre comes complete with all the latest furnishings, including nine leather recliner lounges, a Sony projector with Blue-ray, surround-sound speakers, acoustic panels and LED lighting … that's not to mention the wall-sized projector screen, perfectly providing for those precious popcorn moments. But the cinema is not the only room boasting state-of-the-art technologies, with the entire home running on an automated C-Bus home system in order to maintain maximum comfort for the homeowners. With colour touchscreen control for the whole house, lighting and temperature controls, floor heating, and an intercom system and CCTV security cameras, it is easy to see that this home does not compromise on life's little luxuries. National Construction Group has been providing professional, personal construction services to Sydney homeowners for more than 25 years, with an emphasis on honesty, integrity and fair dealing. This Connells Point residence has clearly provided the perfect opportunity to transfer all of these qualities, and more, to create a wonderful family home that absolutely delivers on its promise of star-class quality.