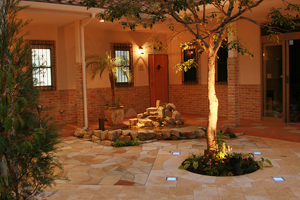 Hot tips for using light in your outdoor room to enhance its function and ambience
By Rachel Falzon
Advantages of outdoor lighting
Adding light to your outdoor room is essential if you want to use the space both day and night. In fact, if you haven't started building or renovating your outdoor room, now is the perfect time to consider all your options so you can include them in the design stage. If you already have an outdoor room and you'd like to add or extend your lighting scheme, it's not too late.
The other plus to installing lighting in your outdoor room is that it can create a mood or atmosphere and if cleverly thought out you can use various themes and settings to suit your needs at different times. For example, an outdoor room with a kitchen will need task lighting to ensure the chef can see what they're doing. Once the meal is served, though, brighter lights are no longer required and a more intimate lighting scheme would be ideal.
Creating ambience
Think about the areas outside that you can see from your outdoor room. While lighting inside the room will be considered, don't forget about highlighting any special features in the garden if it will enhance the mood.
According to Chris Down, director of The Lighting Group in New South Wales, there are many ways to create a mood. "You can light up a border of plants, areas for eating, decks and you can even add lights to the foliage of plants," he says. "Be creative and consider all angles. Think about the way the light can bounce off the roof structure and shed light on the rest of the area."
While wall and ceiling lights are the obvious options, consider using table lighting, too. This can be very effective when creating an intimate setting, such as a quiet dinner for a few or even two. If your outdoor room is set away from the house's electrical mains or you want to be able to monitor your usage outdoors, a battery-operated tabletop light could be just the solution.
Using lighting as a feature
When using lighting to make a feature, Chris says it's a great idea to draw attention to an object or plant rather than make a feature of the light itself. "With good lighting, you should never know where the light is coming from," he explains. There are many ways to do this.
If your outdoor room looks over a pond, pool or water feature, using light within the body of water will generate a soothing, peaceful motion.
"If you have a feature wall in your outdoor room, this is a great opportunity to use light as a feature," suggests Chris. "And there are many new lights coming onto the market that are quite architectural and can be used for elements such as trees."
If, however, you are looking for a fitting that makes a statement, Chris says there are decorative lights on the market, but warns they can be expensive.
Trendy ways to use light
Think outside the square and you'll see there is a multitude of ways to incorporate light in your outdoor room in a unique and personalised way. Consider installing lights in-ground to light paths and in the walls to the edges of steps. This not only looks great but allows family and guests to navigate the outdoor areas easily and safely.
Coloured globes have been popular in outdoor areas for a long time, thanks to their ability to create a fun party atmosphere. New technology means you can have more than one colour coming from a single lamp and many configurations are available.
Rather than ligh a tree from the front, Chris suggests lighting it from the back, so you see a pretty silhouette. "Hiding the light behind the tree or structure is the key here," he explains. You can also install lighting in sculptures to enjoy them once night falls.
Chris says minimal light fittings are on-trend and everything is being brought up to date with the growing popularity of LEDs.
LEDs light the way
The biggest trend in lighting is the light-emitting diode, more commonly known as LED. As people become more aware of the advantages of installing LEDs, they are more and more an accepted choice for external applications, including outdoor rooms. Their energy efficiency and cost-effectiveness in the long term mean they are an extremely appealing option.
Whatever the size of your outdoor room, there's bound to be an LED source to illuminate your space regardless of your preferences. From wall-mounted spotlights to bollards in the garden, you can light up an outdoor room the size of a small courtyard or as big as a lounge room and it's unlikely to cost you the earth when the quarterly electricity bill rolls in.
One of the best things about LEDs, apart from their energy savings, is their long lives. This makes them perfect for use in areas that are hard to access when replacing lamps.
If you're in the process of renovating or building your outdoor room, consider seeking professional advice from a lighting expert on how to light your room effectively for your needs.
Think outside the square and you'll see there is a multitude of ways to incorporate light in your outdoor room in a unique and personalised way.