A tasty tour through Georgas Winery in Greece.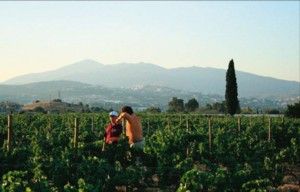 Georgas Wines may not be as big as other vineyards in Greece but, after three generations of wine making, it has become one of the most renowned organic wineries in Europe, producing 20,000 bottles a year under nine different labels. Even more important to owner Dimitris Georgas is their pure fruit juice. They have won many awards for their organic fruit juice, tuning out over 40,000 bottles annually. The vineyard is located in Meso Gia, which means "the middle of the earth". The Georgas family goes back many generations and these days brothers, sisters and many cousins populate the township. Even streets are named after them.
Back in Dimitris's grandfather's day the property was about 40 acres but since then it has been subdivided into smaller parcels of land and given to each of the grandchildren so they, too, could do with it whatever their hearts desired. Dimitris and Maria Georgas received a four-acre plot that's now completely covered with grapevines, carrying on Dimitris's grandfather's tradition of producing wine that's not only organic but biodynamic. Dimitris grows some unusual varieties we haven't heard of in Australia. Savatino, which translates to Saturday, is a local variety that has been cultivated for more than 300 years and is now well and truly adapted to that environment. With an annual rainfall of just 300–400mm, there is obviously an aridity problem in Meso Gia — just like in most parts of Australia — so it makes sense to grow this variety, which has achieved the best results out of many tested.
Only 10 per cent of the local vineyards have access to bore water but this doesn't worry Dimitris too much. His plants have not only adapted to the local climate, they have also adjusted to very little watering, too. He uses a drip irrigation system that's turned on only once at the beginning of summer, which is just enough to moisten the earth; from there on the plants see to their own survival. Looking around the fields, apart from the grapevines, there was dry weeds everywhere. Now, normally these would be hoed back into the earth and destroyed but not at Dimitris's. The dead weeds are left purposely to help control evaporation and stop the intense sun rays from drying the soil surface and causing it to crust, which would destroy microbial activity in the soil that's a vital part of growing organically.
It was the middle of summer and, as in Australia, the days were very long, offering lots of benefits to the plants, such as extra sunlight and warmer soil conditions for better growing. Of course, the other side of that is that summer also provides ideal conditions for many insect predators in the garden. If they're not dealt with early enough, the y can do serious damage, even to the point of killing plants. The biodynamic method of gardening, which Dimitris practises today, was also followed by many in his grandfather's generation. "Obviously, back then, they did not know the meaning of "bio" but rather practised gardening wholeheartedly," explained Dimitris.
Before the 1960s, neither chemicals nor synthetic fertilisers where available to combat insect and fungal problems, so gardeners and growers simply reduced the foliage on the plant by pruning out the centre to stop the insects staying, populating and spreading all over the vine. "Insects love to be sheltered from the wind and dislike bright light, so one of the biodynamic methods of maintaining and protecting the plant is just by pruning," said Dimitris.
Dimitris simply removes the foliage around the grapes to provide more sunlight and air circulation around the fruit. By doing this, he also stops the bugs' pathway to the grapes, thus reducing the insect population. In addition, the various weeds that grow in the fields are not only good for protecting the soil but host many beneficial insects that prey on the bad ones. Pruning a plant is not just about controlling the insect population, though. It also helps to direct nutrients to where they're needed the most, in this case the grapes. Pruning also helps to reduce the amount of water required to keep the plant alive — less foliage means less water. We hardly need proof of the benefits of biodynamics and organics but for the sceptics the proof is in the wine. Dimitris explained, though, that it doesn't stop there. They also practise the "homodynamic" method in his vineyard. What is this? you ask. Well, as Dimitri put it, "It's making contact with the plant on a spiritual level, through its soul."
The homodynamic method, Dimitris explained, is a way to make the plant react to natural applications at certain times during its growing cycle. For example, he sprays a mist of water containing highly diluted minerals and nutrients just above the plant. This is not to water them but rather to send a message to them that will cause them to react and grow. "This is not a nutrient," he explained. "This is not a chemical. It is a message that travels through water telling the plant that summer is just around the corner, so be ready and prepare yourself. Concentrate on your immune system to protect yourself from the nasty insects and the hot weather."
Luckily, it was time to make our way back to Dimitri's home to taste some of his biodynamic wines and fruit juices, but on the way Dimitri stopped to show me around the town centre of Spata, which comprises a group of old villages located 15km from Athens. The town, like so many others in Greece, is very traditional and was once very productive, known mainly for its winemaking. Looking around,  there are barrels on street corners, in front of shop entrances and in many other spots, obvious signs of Spata's winemaking history. Also keeping the Greek tradition alive were the many coffee shops full of people, mainly elderly men, who looked like they'd been there from the early hours, drinking that same cup of coffee while swinging their worry beads and talking politics to anyone who'd listen. Where were their wives? Sitting on balconies where they could look down on them and complain about their husbands' every word and action.
Arriving at Dimitri's home, we sat down to what turned out to be an amazing juiceand wine-tasting evening with Dimitri's wife Maria preparing wonderful dishes to complement each wine. Nine dishes for nine wines with the regular Savatino and other varieties enjoyed in Spata and perhaps a few surrounding townships.
After the nine-course meal it was time for dessert, which as you might guess consisted of sweet treats to complement the different fruit juices. Perhaps it's the blend ratio of apples to grapes or bananas to grapes that made them so rich and luscious, or if it was the biodynamic/homodynamic approach to growing them, but, the wine, the fruit juices and the food were all absolutely wonderful — no chemicals, no preservatives and no hangover in the morning.
Dimitri's tip: Prune regularly to help stop unwanted insects and diseases. The more sunlight and air circulation you provide to the centre of your plants, the healthier they will be and the better the produce.