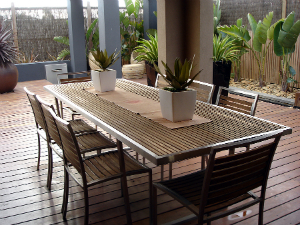 If you're looking for quality outdoor furniture that ages gracefully consider teak

Teak is regarded by many as the ideal choice for crafting outdoor furniture. With its rich natural oil and fine, yet strong grain, teak ages particularly well, remaining smooth to the touch.
Wintons Teak only uses teak harvested from sustainable managed plantations and they only use A-grade teak, which is the highest grade available. A-grade teak is the mature timber found only at the core of the log. It has a very dense grain and an abundance of rich natural oil, which is why Wintons Teak furniture requires no specific maintenance, such as oiling.
The natural properties of A-grade teak also mean that the furniture made from it needs no preservatives, colouring, bleach or other chemical applications. When you look at any product from the Wintons Teak range it will have the rich golden honey colour and natural timber grain found in solid hardwood.
In addition, every component of the furniture is properly kiln-dried to achieve the right moisture content. This ensures that the timber is impervious to changing climatic conditions and is suitable to be used outdoors in any season, without fear of it warping or cracking.
For strength, every single join is of machine-made mortice and tenon and assembled using only the best-quality outdoor adhesive. For durability, all hardware and fittings are made from rust-free brass or stainless steel. Because of this, Wintons Teak can offer a five-year warranty on its products.
Wintons Teak is exclusive to The Gallery Warehouse and products can be viewed online or at the two Sydney showrooms, which are open seven days a week, from 10am to 5pm.
Wintons Teak also offers custom-made furniture for commercial projects.
THE GALLERY WAREHOUSE
17-19 Collins Street
Alexandria NSW 2015
Tel: (02) 9318 0138
Fax: (02) 9318 0026
4/82 Parramatta Road
Lidcombe NSW 2141
Tel: (02) 9648 6219
Website: www.wintonsteak.com