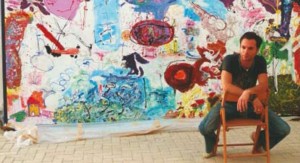 Sandie Rushforth is a completely self-taught, intuitive designer who has been living and creating in the Middle East for the past 15 years. She recently caught the eye of acclaimed British contemporary artist, Sacha Jafri, and together they created a collection of unique and beautiful works.
Their powerful collaboration fuses both art and furniture to give Sacha's paintings a three-dimensional personality. Sandie has been able to digitally produce the original paintings on the body of the chairs, and create the shape, colour, fabric and tone of the pieces to realise Sacha's paintings in the chairs.
With all pieces signed by Sacha, as well as carrying Sandie's trademark in Swarovski crystal, these pieces are certainly highly sought after. "This is the first time I have entered into such a collaboration, and there are no plans to design further pieces," says Sacha on the one-of-a-kind collection. His exclusivity, culminated with the fact the artist owns all the copyrights to his artist proofs and paintings, adds to the value of the chairs.
Sandie reflects, "We were very conservative when pricing the chairs, because for us, it's been an amazing, creative journey. What started as conversations between Sacha and I resulted in these uniquely designed pieces and, in the end, we just wanted to share a few with discerning buyers who would appreciate such artistic work. "People connect with the pieces because, like the paintings, they appreciate the detail, fabric and individuality of each chair," Sandie continues. "This was a very special collaboration for me as I wanted to unveil the collection in a unique way, which truly represents my work. Each piece is individual and I take pride in investing the time to understand my clients prior to creating a piece, ensuring that the design will be something that illustrates their character and style."
When she sets her mind to design a chair or piece of furniture, a whole new creative evolution takes place. You may not instantly recognise the name Sandie Rushforth, but she has quickly built a reputation for herself as a unique and talented artistic furniture designer. Sandie only designs for her clients. First she evaluates your personality, attitude, feeling, sensibility, and then goes about celebrating them through a bespoke chair. She sees her creations as investment pieces; each piece is numbered and created only once, as they are as individual as the people she designs them for.
Furthermore, she has taken great care to source the materials used on the chairs — the leather is the same Italian/Tuscan leather used in the world's finest luxury cars in production today to ensure quality and durability.
The seven special pieces in the Signature Collection are aptly named after Sacha's paintings, or the strong moods that emanate from his incredible paintings. "Sandie was able to immortalise my paintings and capture my spirit in another form which was not canvas, I found this truly liberating," says Sacha.
For more information, visit www.sandierushforth.com or www.sachajafri.com