Dedicated to developing a unique style for his company Gradville Homes, Nick Meletis stays true to the boutique style of home design.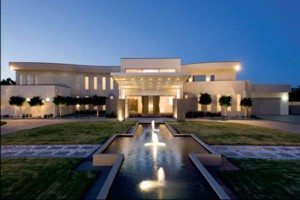 Meet dedicated builder Nick Meletis. It was 1982 when a young Nick found himself in the building industry, influenced by his dad who was a bricklayer by trade at the time. One step at a time, Nick learnt what he needed to begin his own home construction company and, in 1994, it all came together.
Along with his father, Peter, and brother, Stacey, Nick established Grandville Homes and has been known in the industry for building unique, good-quality homes ever since. "People know a Grandville home when they see one," says Nick. "Clients and even realestate professionals always comment about the unique nature of the homes we design. When you on sell a Grandville home it always surpasses a lot of other homes." Nick advises anyone looking to build a home to get into the market now. "The cost of housing isn't going to get any cheaper," he says. When asked what makes Grandville Homes stand out from the rest, Nick points out that it's the approach to building in the home design industry. "We build unique, good-quality homes that are value for money in terms of what people are getting," Nick explains.
"Our homes are unique in the way they are finished and we cater for changes and alterations. We also keep the designs up to date with the modern look." Nick predicts that this style of home will be around for quite a while yet, but suggests that future homes will be built on much smaller blocks, with land used to maximum capacity. In regard to trends, he feels a lot has changed over the time he has spent in the industry. "The types of houses have changed a lot. Traditional homes were extremely popular but we are now seeing much more diversity in terms of materials used, exterior finishes and expectations. Everything is now moving at a more rapid pace." It isn't just the houses and materials that have changed, however. Nick points out that it's also the client's expectations and awareness has altered considerably. "Consumers today, compared to 20 or 30 years ago, are much more attuned and aware," says Nick. "A home used to be just a home but now the clients are more educated as there is so much more readily available information out there." A Grandville home is all about quality and lifestyle and Nick's aim has always been to create homes that are different. "We want our homes to be unique to the company so people can identify with our homes," says Nick. "In the future we want to continue doing what we are doing and build the best possible homes we can."
For more information visit www.grandvillehomes.com.au