An inviting swimming pool and gazebo ensure a resort-style outdoor living experience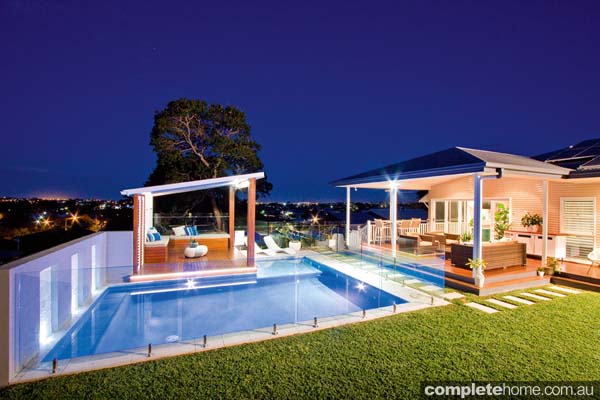 Created with entertaining in mind, Majestic Pools & Landscapes has designed a modern outdoor retreat comprised of a stunning swimming pool and an inviting gazebo that seems to float on the water. The owners of the property wanted a design that was clean-lined and contemporary. It had to present a pleasing outlook from the home and the existing outdoor entertaining area, maximise the city views and provide privacy from neighbouring properties.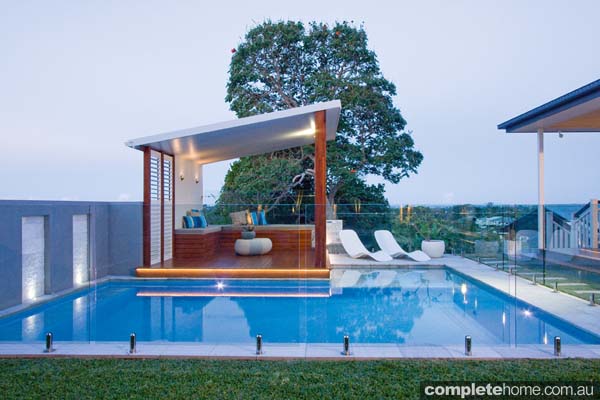 The key challenge facing Majestic Pools & Spas was the council sewer line that ran through the middle of the backyard. The solution? Lift the swimming pool to a height where it would bridge the sewer line – and change the levels of the entire backyard. By doing this, Majestic Pools & Landscapes didn't just build a pool; they took an unusable space and turned it into a lifestyle-enhancing haven.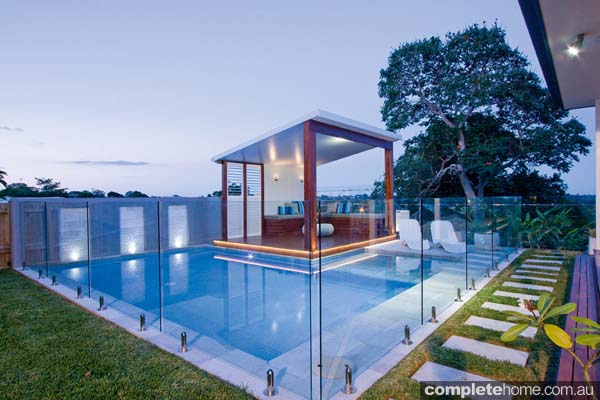 This is a pool project with myriad stand-out design features, starting with the contemporary gazebo. The structure is open on three sides and shutters were incorporated into the back wall, breaking up the solid mass. To further enhance the sense of being in an open, airy space, the gazebo has a skillion roof.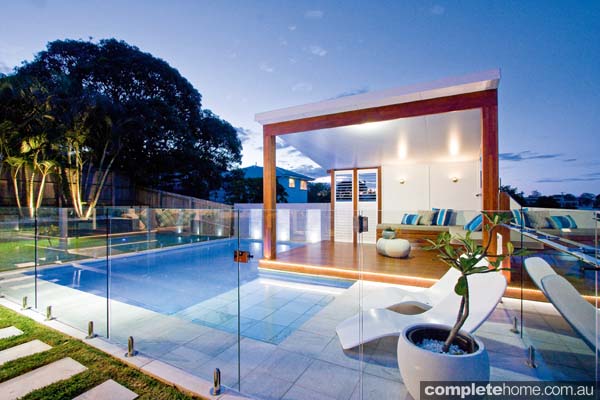 The wall built to the side of the gazebo provides privacy and boasts a series of three beautifully lit white water features. At night, the water features are a focal point of the poolscape while the LED strip lighting under the decking boards of the gazebo really brings the poolside entertaining area to life. Another special feature of the design is a shallow "wet lounge platform" in front of the gazebo where kids can safely play or adults can recline on sun loungers for a real holiday-at-home, resort-style experience.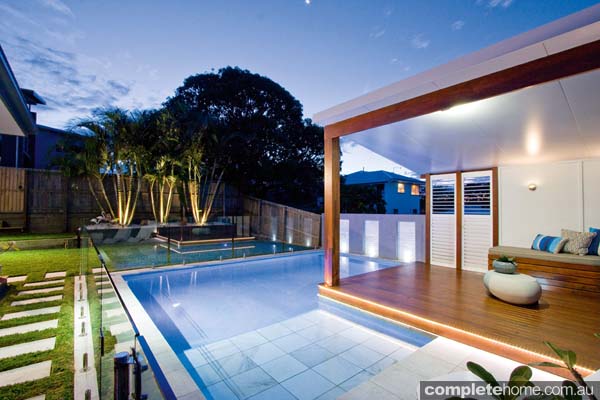 Majestic Pools & Landscapes is Australia most awarded pool company and wins a slew of state and national industry awards across every price category each year. Many companies proclaim their excellence, but awards let you know the company is as good as it says it is. Awards also tell you that a company's design prowess and construction excellence are of industry-leading standard, which is precisely what you need to know when making a major investment in a new swimming pool and outdoor entertaining area.
For more information
Majestic Pools & Landscapes
Southside Showcase Centre: 38 Devlan Street, Mansfield Qld 4122
Phone (07) 3245 2111
Website majesticpools.com.au
Photography by Glenn Weiss
Originally from Outdoor Design & Living magazine, Volume 30