Water feature, pool and pergola seamlessly blend together in this backyard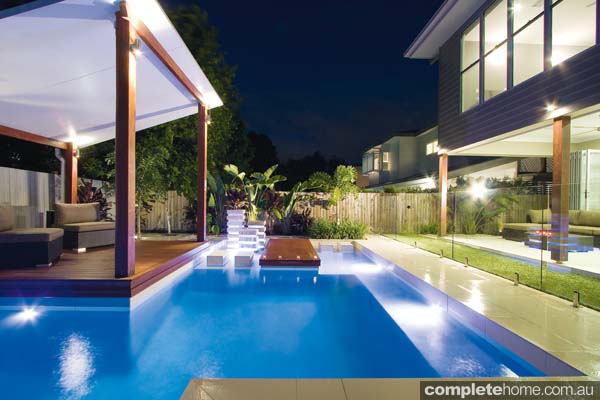 This stunning backyard pool built by Majestic Pools and Landscapes flawlessly ties in with the design of the home and landscape. The pool and adjoining pergola create a place to swim and relax, but are also a feature of the home.
The landscaping around the pool ties in beautifully with the established greenery in the backyard, making this new addition appear as though it's a natural part of the landscape.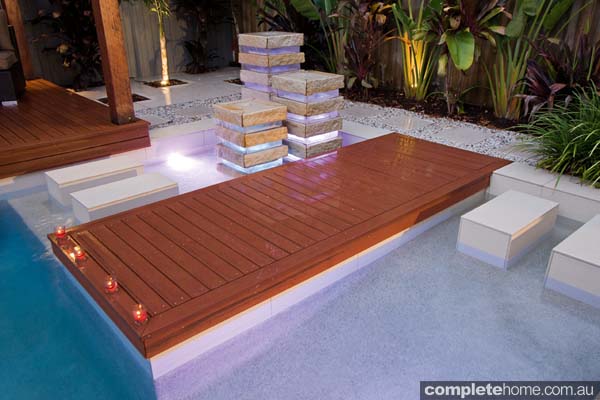 The use of shrubbery gives the pool a more private feeling, capturing the ambience of a private piece of island paradise, despite being in suburbia.
An essential part of the design is the glass fencing that separates the pool from the yard. It serves as a crucial barrier but doesn't stunt the size of the yard by blocking off the pool section, as other fencing might. Being able to see the pool is important as it opens the yard and serves as a great feature piece from the house's windows.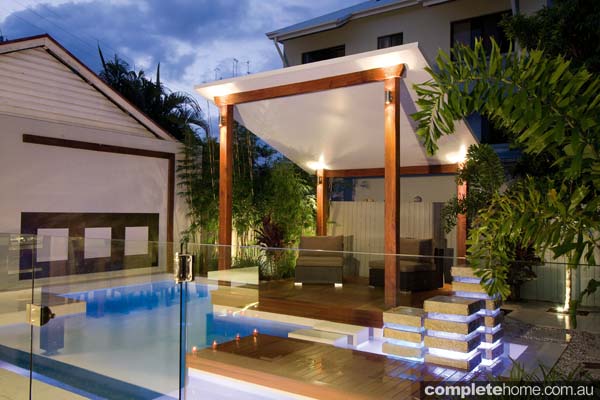 The inset pergola at the back of the pool is what makes this design work so well. It's a simple style but with big impact, elevating the backyard to a multi-use space with a resort-like feel, perfect as a seating area, a spot to dip your feet in the pool and for taking in the view — it also raises the bar for contemporary pool design.
Another outstanding feature is the water fountain. Positioned in a shallow corner of the pool, it has three multi-tiered pillars. These pillars are layered with slabbed stone and glass with interior lights. The water lightly cascades around the pillars, creating a beautiful sheen of ever-flowing water. During the evening, the fountain pillars look even more spectacular as the interior lighting makes the water glow.
The use of light-coloured paving and stepping stones with the darker wooden pier and pergola create a nice juxtaposition in the colour scheme — the same colour scheme that's used for the covered outdoor entertaining space built off the house.
This project is a little piece of paradise, wonderfully designed.
Fact File
Design by Majestic Pools and Landscapes
Website majesticpools.com.au
Originally from Outdoor Rooms, Volume 25